In July 2005, I received an email from Lillian Jones regarding her Great Dane Puppy - Abby, who had been diagnosed by veterinarians as having HOD. After going over her information with Lillian and Abby's feeding protocols, I was not convinced it was HOD. The following is her story. I am including it at my website because she is the first Vaccine Mediated Response case which I have seen that recovered. In May of 2006 - 1 year later - I received a letter from Lillian thanking me for saving her dog. I would like to share Abby's story with you.
---
Dear Linda,
This is update on our Abby after her problems with vaccine reactions. She is very beautiful. We do have some lasting effects of the vaccination reaction, but she is doing very well and is nice and healthy.
She had her first vaccination at 5 weeks, her breeder gave her a 7-way vaccination and another vaccination at 8 weeks (7-way), she was vaccinated for bordetella and microchipped at 10 weeks. That was when we brought her home. She never seemed right, we immediately started her in conformation classes by the end of the 8 weeks we started noticing a little swelling in her front legs then one day she fell down and couldn't get back up. That was when our nightmare started.

Please use this story because we almost lost her because of a misdiagnosis of HOD. She was diagnosed with HOD last may at Ohio State University, and they treated with clavamox & pain relief. In June when she got worse I went to a different doctor who recommended putting her down. Then I took her to a water therapy class and they also recommended putting her down. Another vet tried Rimadyl with another antibiotic, when that made things worse I contacted you. It was either find something or put her down the next day.
We treated her with a bolus of dexamethasone for at least 10 days twice a day. She made noticeable changes within hours...she was carried into the vet and walked out within 4 hours...within 24 hours she was playful wanting to walk on her own...previously we were having to carry her out to the bathroom and hold her up to potty.

By the end of July she had put on weight, looked healthy, was eating, and playing with other puppies. She made an amazing change on your Blackwatch Feed Program with Eagle pack, Nzymes, and Probiotics. I have to say that I cannot thank you enough for helping save my baby girl.
Lillian Jones
May 06
---
This is Abby last year during her vaccine reaction - the official term is Vaccine Mediated Response and there are ways to prevent vaccine reactions but it is very rare to save one of them from this horrifying condition.
Note the size of her growth plates in front and the pinched rear behind. This is why it is normally diagnosed as HOD - Hypertrophic Osteodystrophy. The problem is, the term Hypertrophic Osteodystrophy is a term for a "condition" not a specific disease - and dogs can look like this when they have Nutritional HOD, Vaccine Reaction HOD,r Antibiotic Reaction HOD and Septicemia HOD - because all HOD means is - swollen joints. That is why it is so difficult for vets to distinguish between each without looking at vaccine schedules, diet and any medicines they have been on in the previous weeks.
If you have a dog that is in this situation print out my Guide To Recognizing Bone Diseases and share it with your veterinarian so you can tell which problem you are dealing with and how to correct the situation before losing the dog.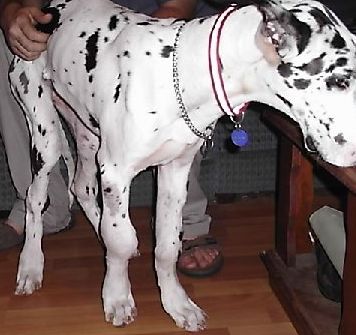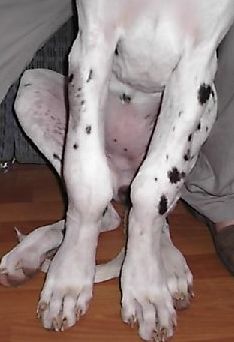 ---
This is Abby almost a year later in May 2006 - she survived this horrible orderal. I have worked with many owners and vets on these cases, but never had one survive. This dog was treated with Dexamethsone and the Blackwatch Puppy Feed Program.
I thank Abby and Lillian for allowing me to share their story in the hopes that others will learn how to prevent this condition. Please read Dr. Jean Dodds vaccine recommendations at this website and share with your veterinarian.
There are things you can do nutritionally to help support the immune system during the vaccination period. Nothing is a guarantee, all I can tell you is in all the years we have been having litters and vaccinating puppies, we have not had one vaccine reaction when they were on a feeding protocal that supports young immune systems.