For a bloat sympton chart go to this link - you will have to change the percentage to 100% in order to read it: Bloat/Gastric Torsion Symptom Chart - compliments of the Great Dane Club of America Health and Welfare Committee. www.gdca.org
If you are interested in purchasing a bloat kit, I recommend this one from the Nature's Farmacy: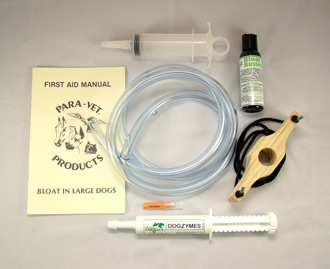 Deluxe Bloat Kit
Deluxe bloat kit contains seven pieces: "How To" Manual, 5 foot clear vinyl tube, wood mouth block and trochar, DOGZYMES 35 gm paste, 2 oz Bloat Buster, and 60 cc bulb syringe. Pieces can be purchased separately. Available in two sizes: Medium tube: 40 - 90# dog. Large tube: 90# and up dog.
Price: $42.95
* Bloat Buster is Super concentrated Simethicone and liquid Yucca used to transform large gas pockets into small particles. For use in Bloat emergencies. Suggested oral feeding rate: 1-2 ml/100# dog.

To Purchase: call 1-800-733-4981