Date: 8/23/2006 10:08:53 P.M. Eastern Standard Time
From: mgarmley@nycap.rr.com
To: GrDaneLady@aol.com
My name is Elijah and I am a Newfy-Husky mix. I am now 13 months old and was rescued from Oklahoma. My sister, Savannah, who is also 13 months old is a Newfy and she was rescued from North Carolina. Our birthdays are only two days apart but we share everything - even illness.
At 3 months old I weighed only 4.8 lbs and had my first and last, airplane ride. At that time, my dark and dirty crate sure felt like a better place to be than where I had been living. My sister Savannah was a bit luckier, she weighed 12 lbs and had already been rescued and living with a foster family who gave her food, love and those awful 'puppy shots' we hear about and dread, but I never received.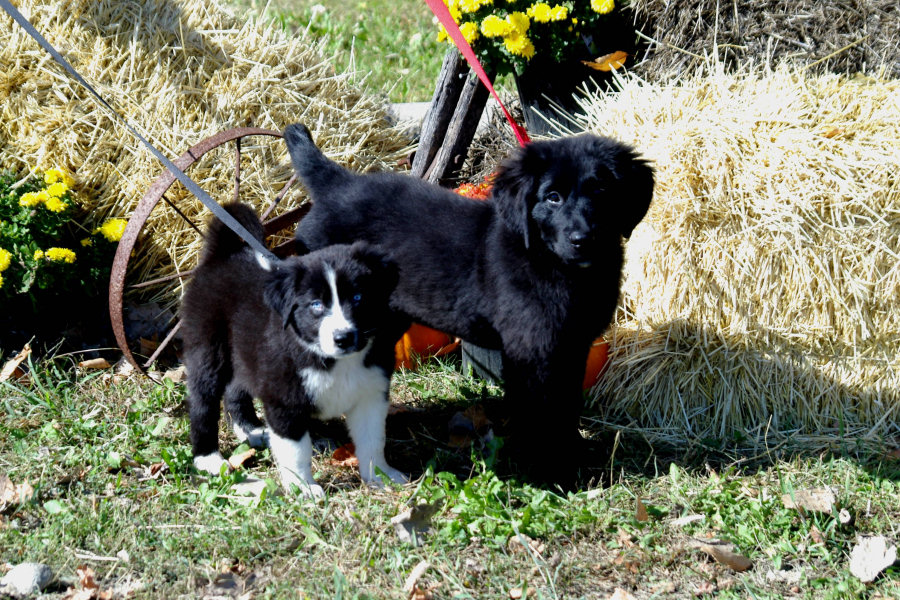 Elijah (left) Savannah (right) - 4 mos.
I was the first to arrive in New York - tired, scared and so very dirty. Not the impression I wanted to make on my new Mom, but when I met her and she held me in her arms, I knew this was the beginning of something very good for a puppy, even though I didn't feel very well. Off I went in a moving object - but this was a good feeling - fresh air and sunshine - something I rarely got to see. Why my Mom put me in warm water with bubbles I had no idea - what was going to happen next? But the warm towel when she was finished scrubbing me to the bone, sure felt almost as good as her warm, comforting arms around me. This was Heaven! But Heaven didn't last very long - I found myself back in that moving object with all the fresh air and sunshine again. I'm a brave boy, but this was asking a lot more of me than I had to give! It didn't take long to become very concerned - I could hear dogs barking and I was in a strange building with many smells and sounds and human voices and hands touching me with kind words - that did not bite me, so I thought it must be okay. I was so exhausted that I fell off to sleep, only to be startled by someone poking me with cold things and 'ouch" a needle stuck into my leg! I never had so much physical contact in my entire 3 months!
My Mom was crying when they told her that I was very sick and needed special care for the next few days. They told her I had more worms than a fishing bucket and Coccidia. I felt so very tired and sorry that I had let her down, but I could feel that she was taking all this news as a mission - just for me. Mom came to visit me everyday I couldn't be with her. I started to feel better and found out that soon I would be going home - where the warm water and bubbles and warm towels were waiting just for me! But wait, Mom had another puppy with her when she came to get me - she was bigger than me, but she sure did like me. Everyone called her Savannah - I liked her too and decided right then and there that she would be my sister forever. Now I got the chance to watch her get all those 'scary' things done to her - not that I wanted them to hurt her - it just seemed only fair. She was luckier than me though - they said she was in much better health than me. And she weighed a whole 12 pounds! Heck, that wasn't going to stop me from being a BIG boy..after all she was 'just a girl'.
My sister and I really loved our new home. We had cats and other dogs as family, though we couldn't get close to them. But I still did not feel well and then my sister became ill. We had only been home for two weeks when we found ourselves back at the animal hospital again - this time, both of us very ill. When they first checked me out, they didn't know that I had Giardia and I had shared it with my sister. My puppy paws were crossed that this would not be the end for both of us. We both endured 6 months of treatment for Giardia but we just did not get any better. We did not have appetites to eat and some days it was very difficult for us to get up and move around. It reminded me of my days in Oklahoma - but with a whole lot more attention and love. This is all very confusing to puppies…we just didn't know what to think. Sometimes we were hand fed; sometimes we were bottle-fed - which is embarrassing for 9-month-old puppies. But after seeing our Mom pick up after us when we were sick or had to take care of business - shoveling snow higher than we were tall and scrubbing the frozen ground with a wire brush to keep it clean for us - we knew there had to be a good reason for all of this.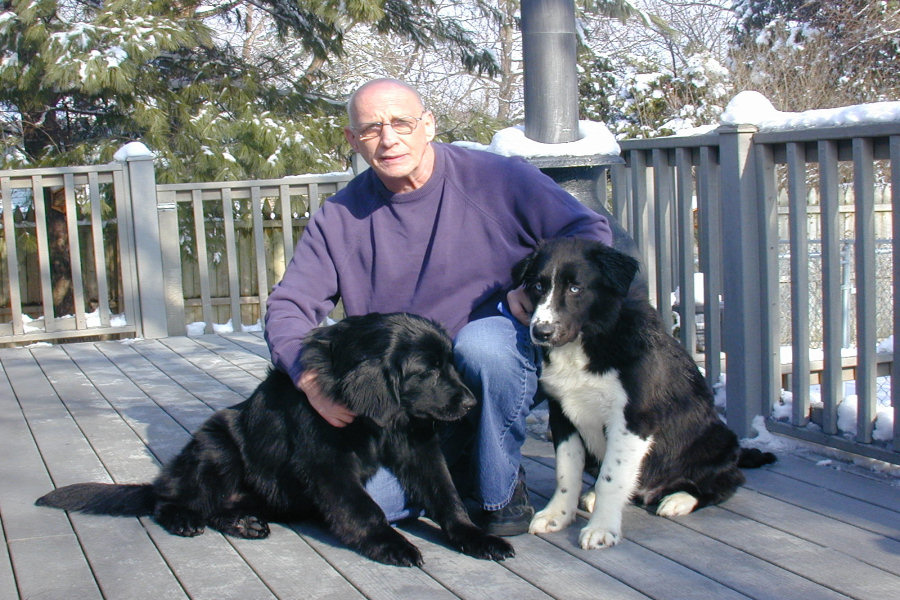 (Savannah/Papa Joel/Elijah) - 6 mos.
After being in and out of the animal hospital for what seemed to be a million times, one cold and very snowy day that Savannah and I were very sick, something happened that was different from all our other experiences. A new doctor who took care of us that day discovered that we had a different strain of Giardia, not common where we live in New York. We thought it was the end, but it was actually the beginning of better things to come. My Mom contacted a doctor at the University of Oklahoma and found that the type of Giardia we had needed a different treatment. Medicine was sent to us on an airplane - so glad we didn't have to go back there! After 2 months of treatment - No More Giardia!! We celebrated with new bones and awesome puppy biscuits! Life could not have been better. We were finally Giardia Survivors!!

You guessed it - it went downhill again. My sister Savannah was having a tremendous amount of pain in her back legs and could not walk very well as we started to grow. After many trips to different doctors, everyone agreed that she had severe hip displaysia - most likely from being crated for long periods of time after she was born. Mom and I stayed by her side and never gave up. My Mom would not allow the other doctors to cut Savannah to pieces and break her bones and put metal pieces in her. She was determined to find a better way - and she did. She found two Angels - Rosco Campbell and Linda Arndt. Rosco read a story about us in an Oklahoma newspaper about how angry Mom was with the State of Oklahoma for taking so little interest in prosecuting the woman who had 59 other puppies and dogs at her home that were rescued in a less desirable way than I was. He became our 'godfather' and sent Mom healthy, natural supplements for us to take to rebuild all the things that puppies need to survive and grow up healthy. He also gave Mom the name of our 'godmother' - Linda Arndt. - who has to this day, never left our side, giving our Mom guidance on how to feed us 'real' food, what type and how to give the right supplements we need and she has educated her so that she now understands how to treat all the things we must go through to become healthy and happy. We've taken all the changes we've made in the past 3 months in stride - as best we can. We trust our Mom and our godparents and know in the morning when we wake up and stretch and yawn, there are many new fun things to do as we feel better and stronger.
We now have a therapy pool for Savannah that Mom made using a big 'tub' that horses drink water from. We look over our shoulders every now and then and haven't seen any of them yet - but your never know! It was a bit unnerving to see Mom digging a huge hole in the back yard - but once we got the idea and found out how good it feels to have your own 'personal swimming pool' - Heaven had come home! We now run, play and swim several times a day. With great food, our supplements and water therapy - ahem, swimming….my sister is now able to run and CATCH me (when I let her) and she walks almost as well as I do. I'm very proud of her - she never gave up.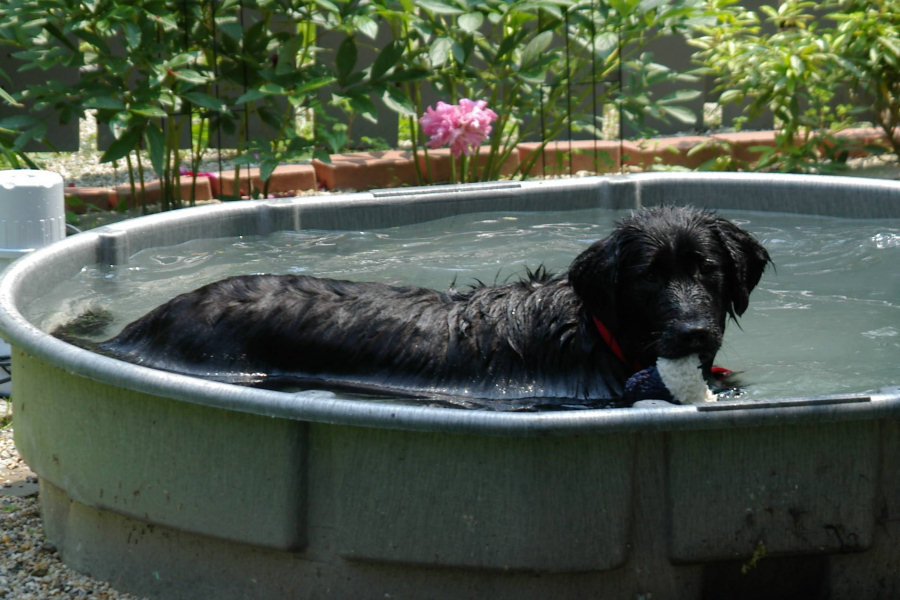 (Savannah - 1 yr.)
We are no longer contagious to other animals so once we get our 'puppy' skills down to a 'presentable' level, we are looking forward to the heat and humidity of summer to pass so we can go out and socialize with other people and their dogs. Mom tells us it's a lot of fun and we are almost strong enough and 'civilized' enough to venture out into yet another big world. I guess you could say we are 'late bloomers'. But we do understand that when you weigh 85 and 100 pounds, you really can't be a puppy any more. We keep that in our hearts.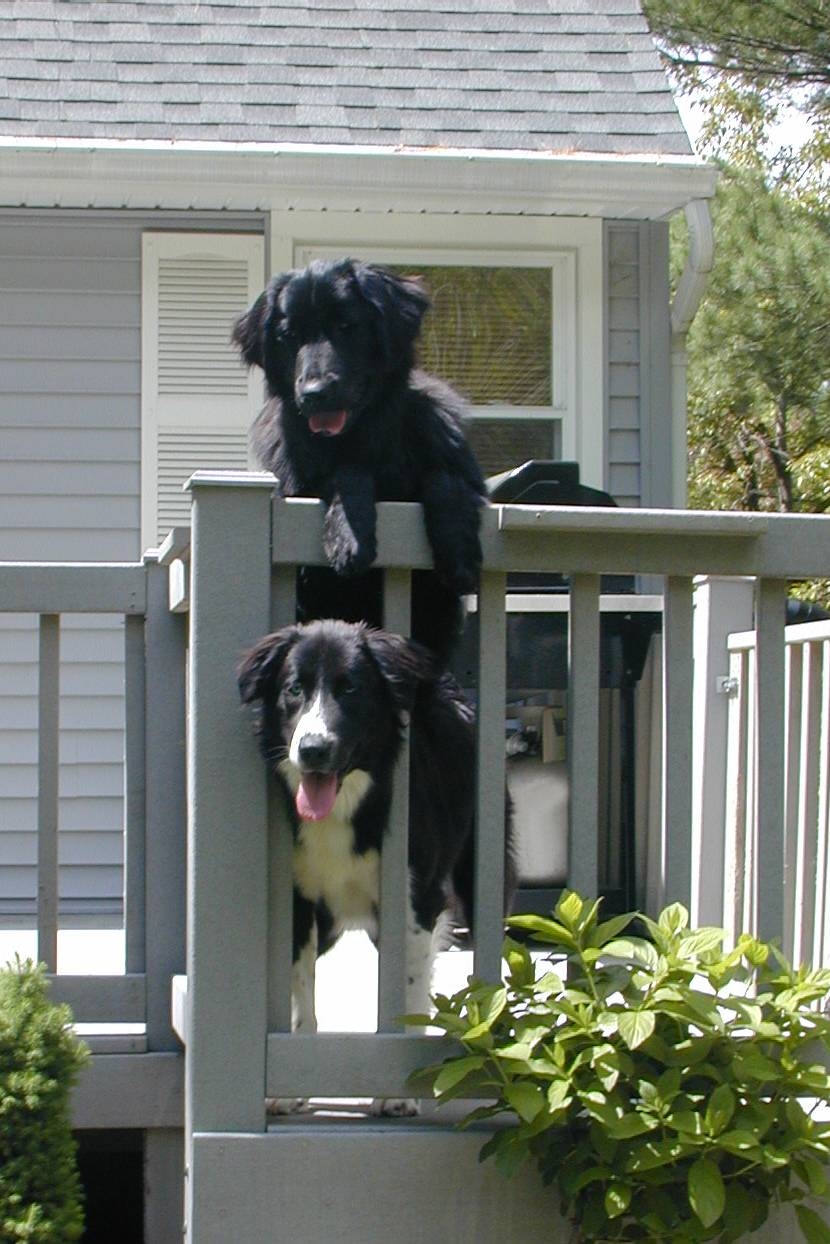 (Savannah and Elijah) - 14 mos.

We love our Angel Linda - she has literally brought us back from being left at death's door. Our tribute to her is that we will continue to grow strong and healthy and she will be proud of us when we have our 'manners' down 'pat'. Life is just beginning for us and in our family's hearts, she has blessed us all - there are no words that can describe our gratitude so our future is dedicated to our Angel and godmother - Linda Arndt.
Though it is the short version of their struggle to survive, I believe I've aged 20 years in the one year process of caring for and loving them with all my heart and soul. I often wonder when the battle will be over - when will the sigh of relief come - but I don't dare take one - we just go day by day.

You should see them in the morning when they wake up - sleepy eyed like little children. Then they see the sunlight through the back door and tails are flying all over the place - so anxious to get outdoors to run and play in the cool mornings. Elijah is the 'agile' one - as you can see from the photos he is still a bit lean, but he's still growing and with a delicate digestive tract I don't over feed him. Savannah is very feminine but has the 'lumberjack' look of a female Newfy. She just blows you away when she runs - she's as agile as a deer and her coat is sleek and flowing. She's a very smart young lady and it tickles me - as Elijah can run much faster than her, she has figured out it is better to 'out smart' him than allow him to be 'the winner'. After she has had enough of 'chasing' him around - she will hide and pounce on him when he runs past her - she 'gets him' every single time. They are so funny.

He was not as fond of the water as she was from day one, but she has given him the confidence to be in the water, all on her own, and they swim around after each other - as best they can. So far I'm seeing an improvement in her back legs - she is not as predominantly 'pigeon toed' as she was and she's finally starting to build some muscle mass on those back legs. I just found a supplier who makes an 1100 gallon stock tank so I am hoping that between the cost of the new tank and shipping I will be able to get it for them in the spring - they need more room and this tank is also deeper. I can hardly wait.

You are so right about the Giardia. We went to the vet today to have Savannah's ears and skin rechecked and all is well. I will now be able to switch over to the K-9 solution you recommended. She has done very well. On Friday I will go back with samples from both for our Giardia test. Due to the intensity of their infestation, we check them every other month. Fingers, toes and eyes will be crossed.

I will never forget the blessing of you and Rosco in our lives. Neither puppy would have made it this far - that I am certain of. I have shared your website link with many people I know and anyone who will listen, and ask them to 'pass it on'. I realize that you can't help everyone alone and everything they need to know is right there. It still amazes me! The 'circle of life' truly passes through the work you both do! A day does not go by that we don't feel your arms around us!

You may use whatever you like from their story - even my email and phone number - people need to know that they are not alone in their struggles. Expensive doctors are not the answer - nutritional education is what really needs to be brought to the forefront of good health management. We just seem to have this 'blind' mentality that the vets word is 'gospel'. Though they do the best they can, few are open to understanding or even caring about nutrition - hopefully that will change. I know it has had a rather large impact on the people who staff our vet clinic and they now pass it along. A very good start.

In October I plan to attend a 2-day conference only a few miles from home and I'm very excited to test the 'nutritional levels of education in the 'open forum'. It's a very broad offering of all animal related issues, but an opportunity to network with people who lecture in bigger cities than Albany, NY and have the means to continue making a difference, especially for rescued animals. I'm thinking of it as another 'baby step'.

We'll stay in touch as we grow - hopefully the 'critical' stages will be under control! BIG hugs and 'puppy' kisses from Elijah and Savannah and heartfelt gratitude from me.

Maggie
mgarmley@nycap.rr.com