Those of you who know me as Linda the Artist, instead of Linda the Great Dane Lady, know of my love of intense color and detailed pattern, as seen in much of my Kaleidoscope plates and earlier drawings. So it is a most natural transition for me to fall in love with the intricate weave, brilliant color and patterns of the Japanese kimonos. Especially the earlier kimonos which have much grace and dignity and reflect a time of great culture.

These are some of my vintage Japanese clothing including the Wedding Dresses called Uchikake, Furisodes which are kimonos worn only by unmarried young women, traditional kimonos and the Haori a traditional jacket worn by women and men alike.
In this section of my website I will share with you some of these most magnificent treasures. Several were on exhibit at the Dean Johnson Gallery in Indianapolis in 2008.


Uchikake is an ornate wedding coat with a long trail, which Japanese bride wear during the wedding ceremony. It is worn like a robe without obi over another kimono, called `kakeshita', which is tied with obi.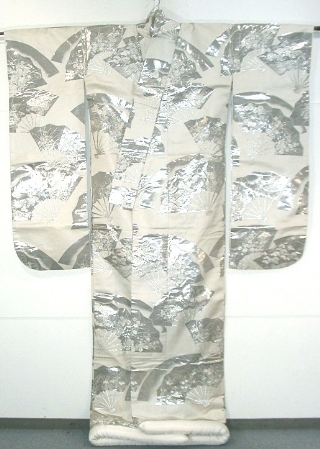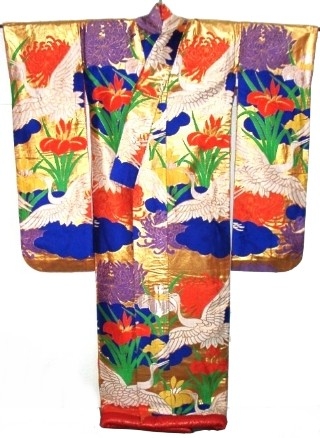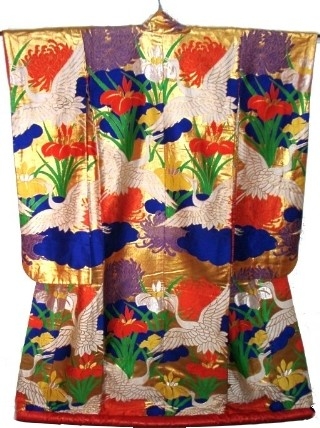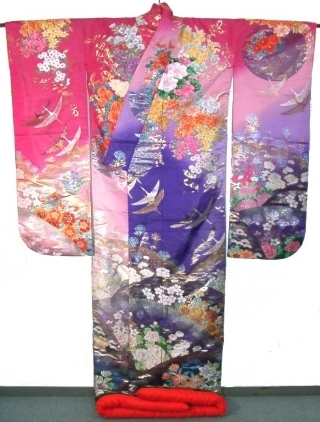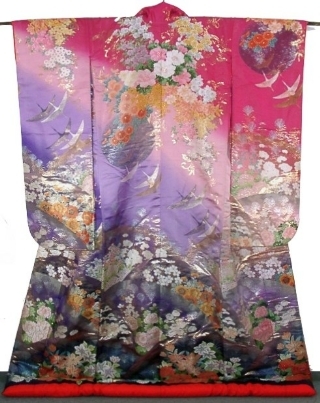 Detail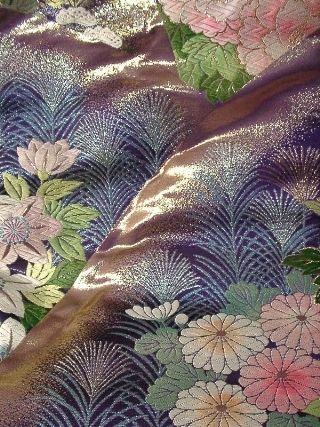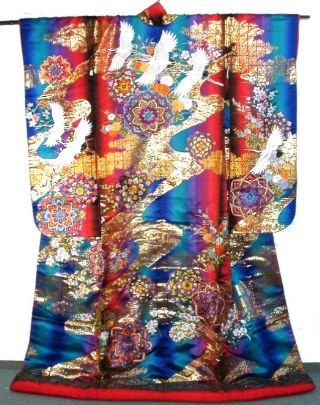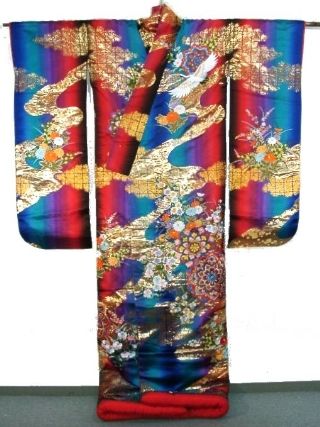 Detail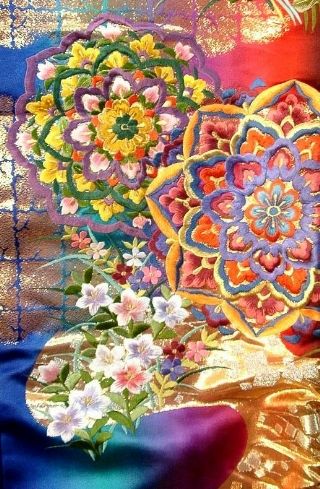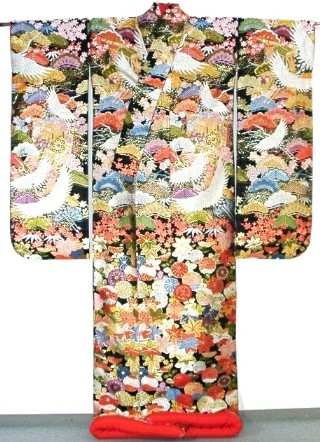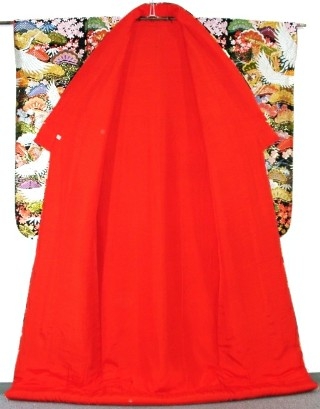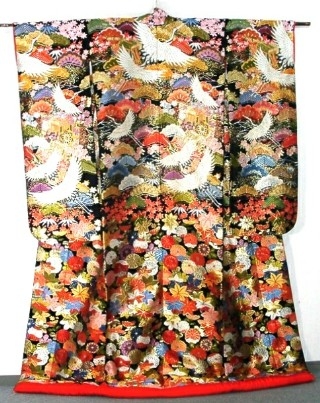 ---
Furisodes
Furisode is the most formal kimono for unmarried women. Furisode means "long flowing sleeves" . Sleeve length varies from full length to short. Furisode usually have rich decorative designs using elaborate techniques of hand painting or embroidering. Most women attend Coming-of-Age-Day ceremony in colorful Furisode. The sumptuous furisode especially worn by a bride under uchikake is called `kakeshita' . Kakeshita is usually longer than usual kimono, so it may be perfect for women of taller size. Furisode can be used either as a lovely garment or an interior decor.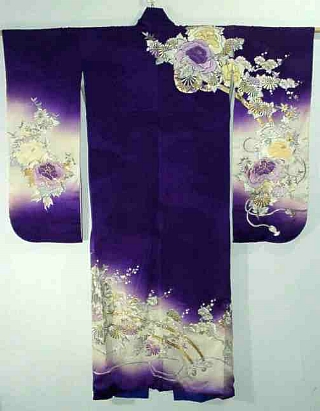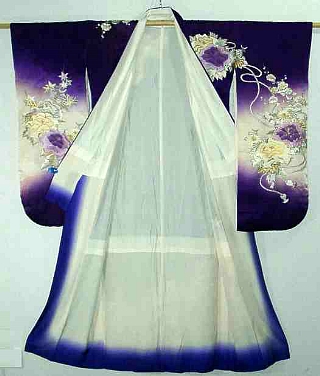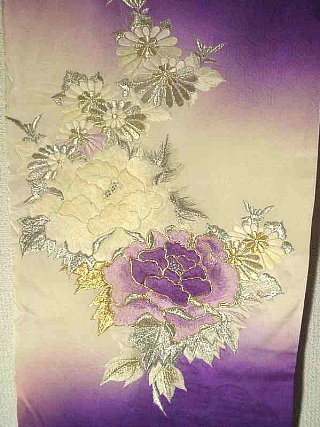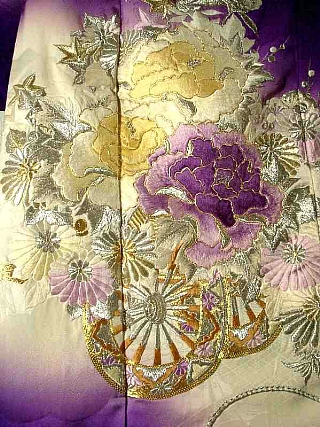 ---
Kimono
In spite of its simple shape, each kimono gives dramatically different impression. From the simple daily wear to the most formal black wear or from country-style weaving to heavily brocaded piece, each kimono has its own charm. These Kimono are hand sewn and "one of a kind". Note all of these kimono's have been worn and an important part of someone's life. There will be slight evidence of wearing which is part of the charm of these items whether you choose to wear them or display them for your enjoyment.
Peony Motif - Pre World War II Kimono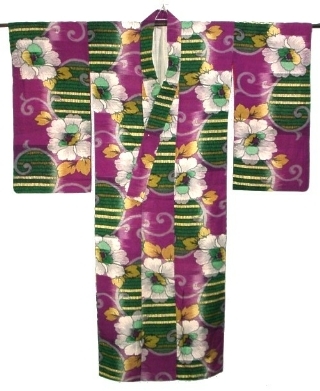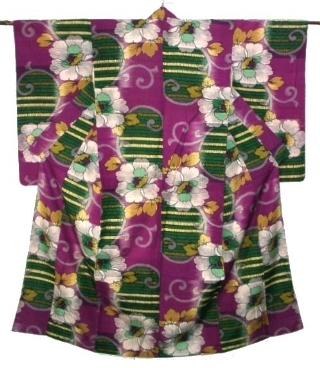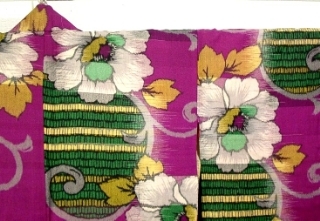 Description: Vintage, pre W.W.II with bold Peony motif. Gracefully long sleeves and old fashioned taste, on the whole is in very good condition silk & synthetic blend, lining is silk and the technique is woven - sleeve to sleeve is 49" - Length is 58" - back width panel 22.5" around hip - 41 1/2" .
---
Intense Blue Chrysanthemum and Pine Tree Motif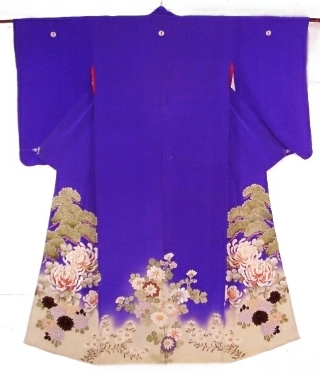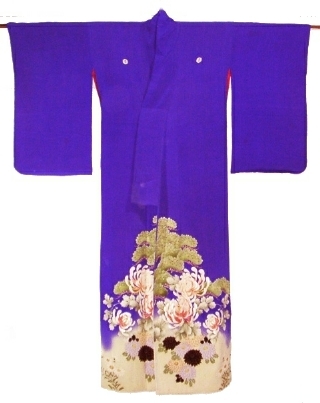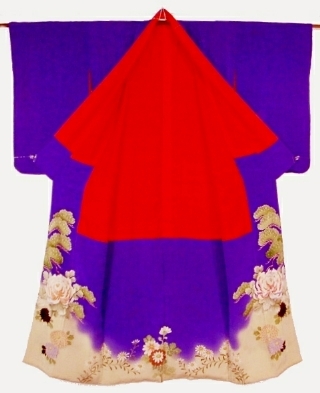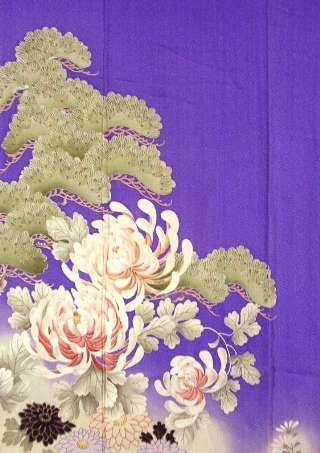 Description: This is a vintage irotomesode with colorful chrysanthemum and pine tree motif, dyed and embroidered soft to the touch, all silk in very good condition. Sleeve to sleeve is 48 1/2", length is 58 3/4 ", back width 22 2/4" around hip 41".

---
Pink Komon Kimono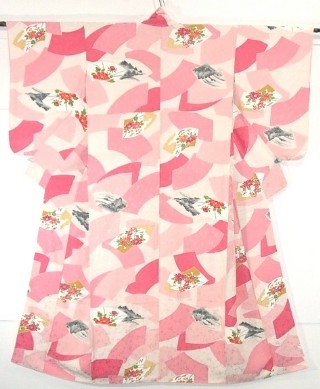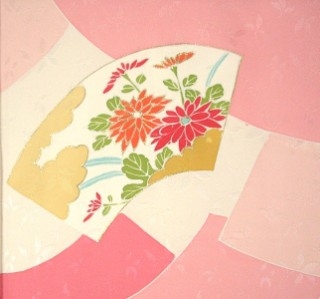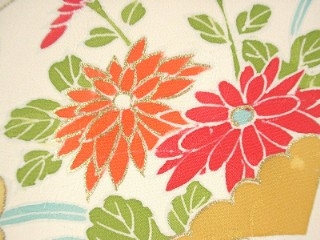 Description: This pink Komon kimono has a unique design that includes scenery and flowers dyed in a fan shape pattern. It is made of silk with a damask effect and it is very soft and comfortable to the touch. This kimono is quite new and in good condition. Size - sleeve to sleeve is 51 1/2", length is 61 3/4 ", back width 23 3/4", round the hip is 41".
---
Mid Showa Period (1926-1989) Chrysanthemum Pattern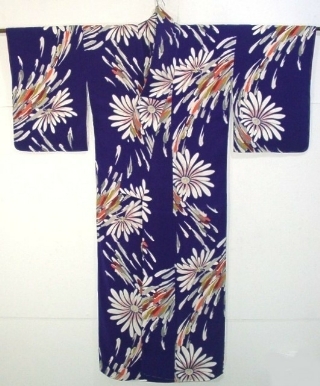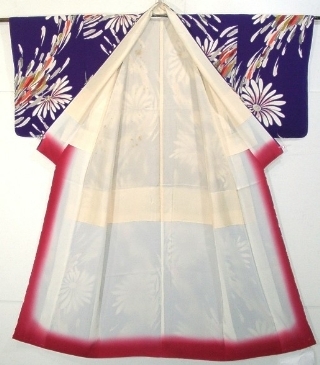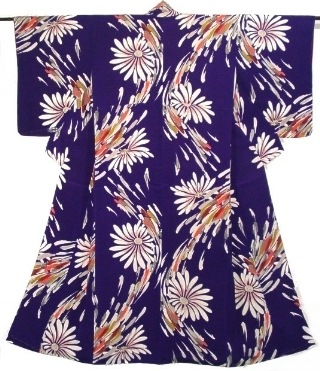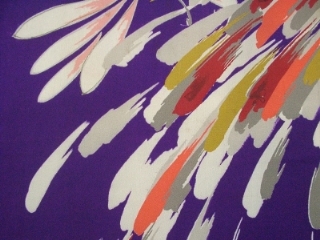 Description: This kimono is boldly dyed with over all chrysanthemum patter and is from the mid-Showa period from 1926 - 1989. It is silk and soft to the touch and in good condition. Sleeve to sleeve is 51 1/4", length is 58 3/4", back width 22 3/4", around hip 43 3/4".
---
Blue Komon Kimono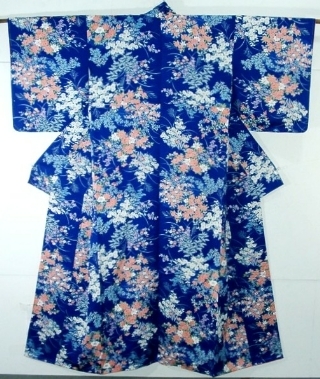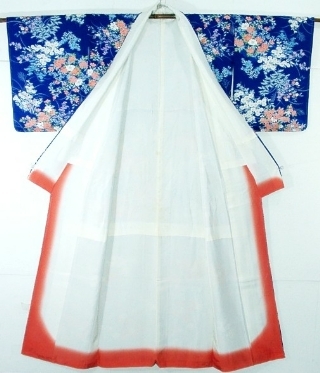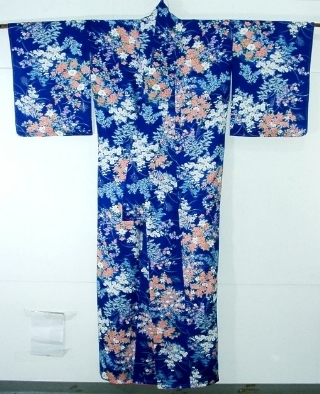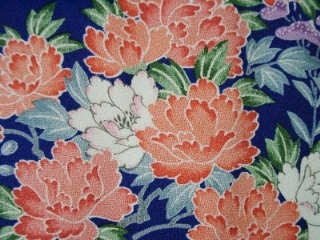 This blue komon kimono has beautiful graceful flowers for it's motif. It is quite old an in excellent condition considering it's age. It is dyed in with a vivid blue background and the textile is exquisite silk and soft to the touch. Size is sleeve to sleeve 50 1/4", length 60 3/4", back width 22", around hip 40".
---
Haori
Haori is a lightweight coat worn over kimono. It isn't meant to close in front, so you can wear it as a jacket.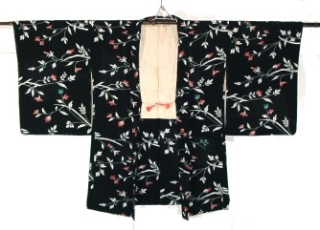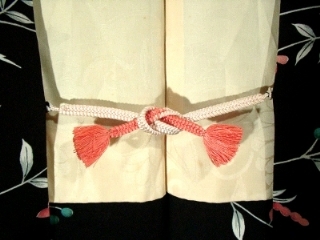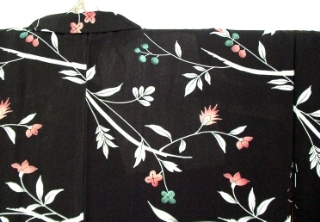 ---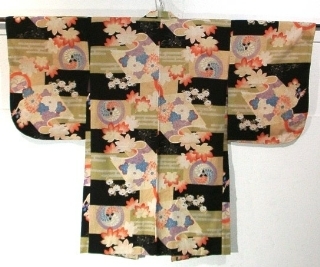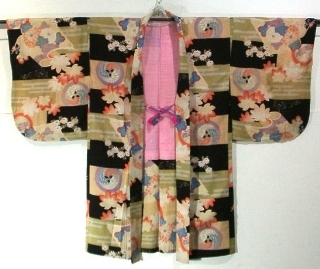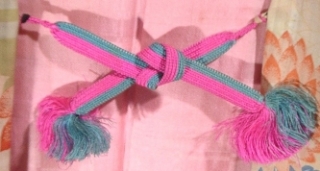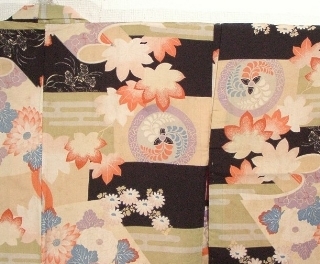 ---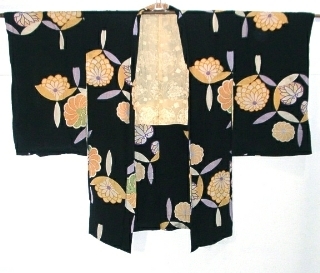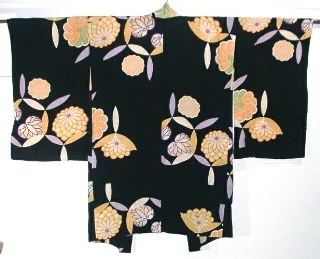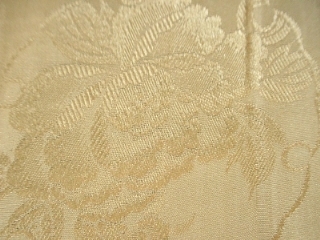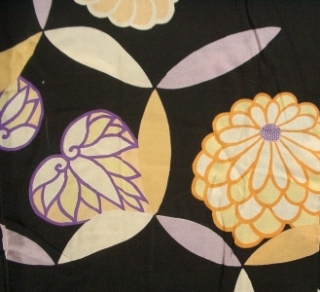 ---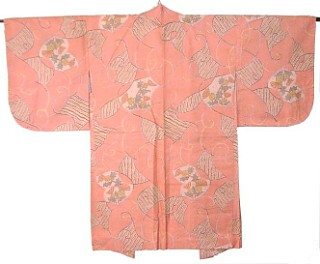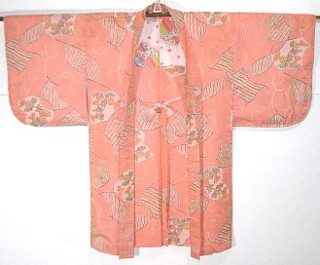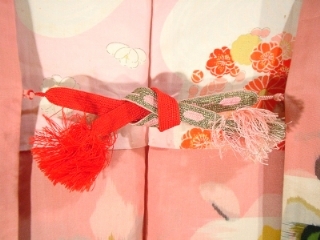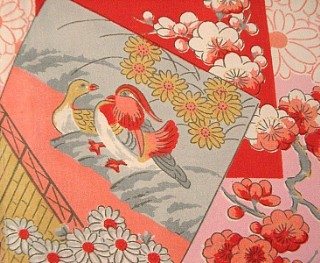 ---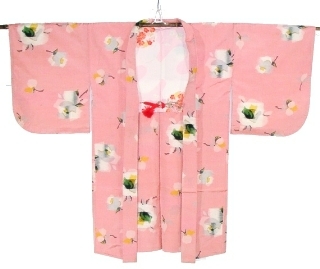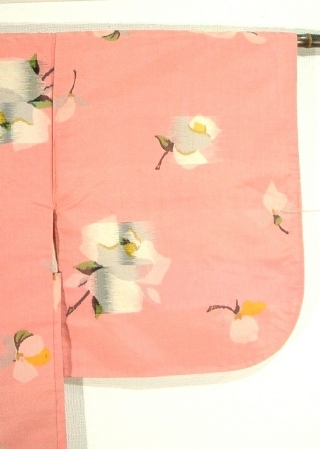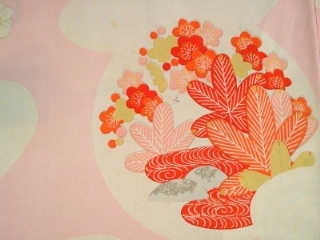 ---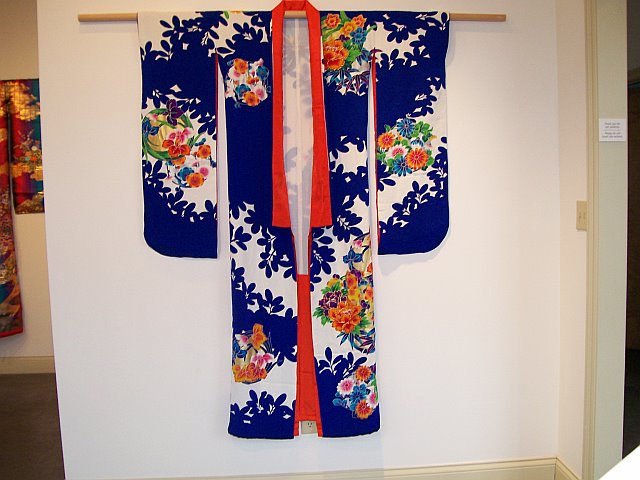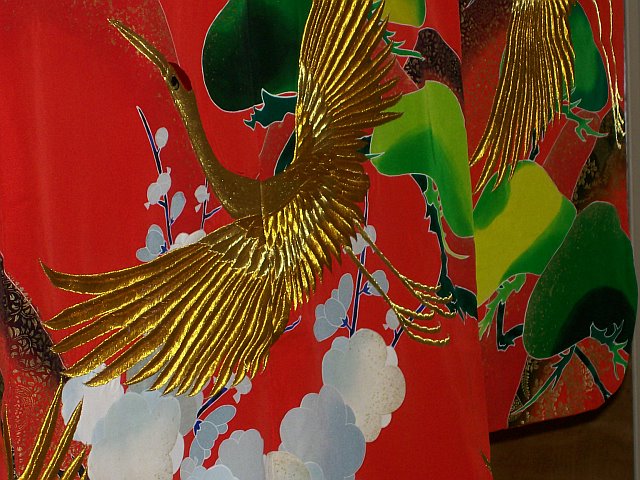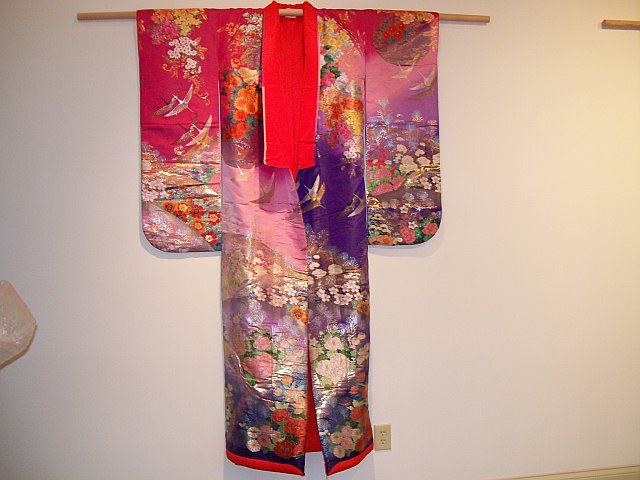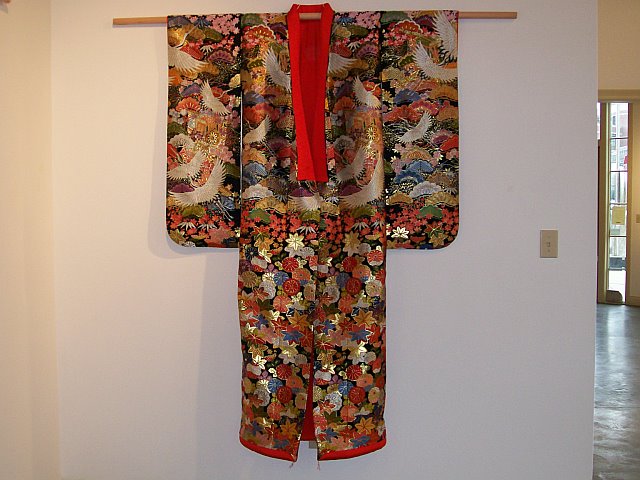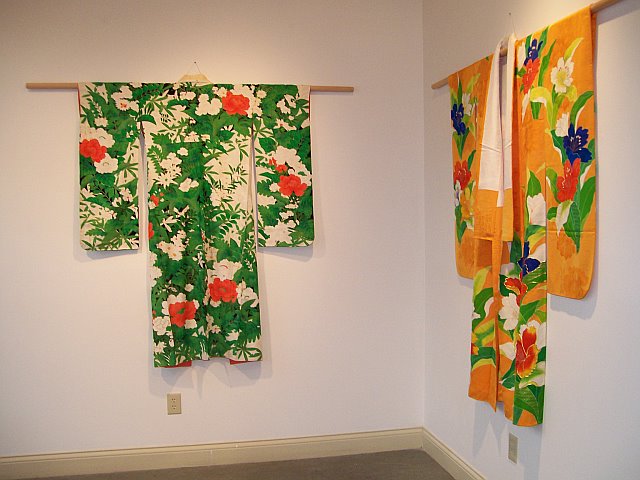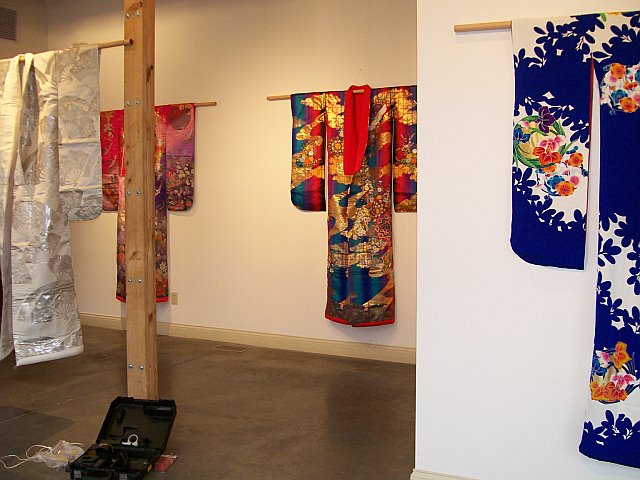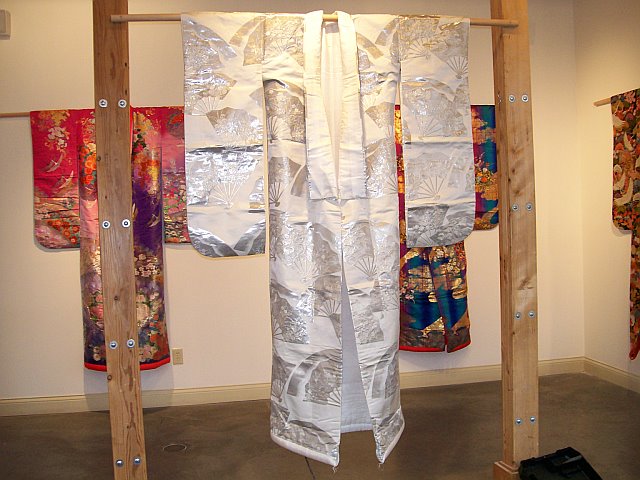 THESE PHOTOS WERE TAKEN THE DAY THE SHOW WAS SET UP AND
THE FOLLOWING DAY, BEFORE THE OPENING ALL DRESSES WERE STEAMED TO
REMOVE WRINKLES FROM SHIPPING.