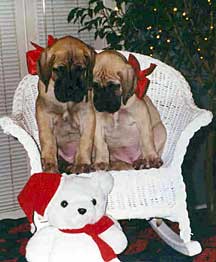 Puppy Inquiries
Blackwatch Great Dane Kennels is owned by Linda Arndt, established in 1973 and located in central Indiana. Over the years I have co-bred many dogs with Phil & Jane Gray of Owlwatch Kennels, Muncie, Indiana. We have produced black, blue, fawn, brindle and harlequin champions in conformation and obedience. Most of the breeding that I have done in the past few years is with the Grays, so I will send you on to them for specific litter information and for your interview. We currently focus on Black/Blues and Fawns/Brindles.
Read our requirements for ownership, and if are seriously interested in being considered for one of our puppies, email me and we will start the interview process by sending you on to the Grays. s
2002 was a big year at the Great Dane National for Owlwatch Kennels. The Grays produced Winners Dog and owned Winners Bitch, Best of Winners and Best Junior in Futurity- Gala bred by Jill and Jerry Weichens, and Gala's sire was Ch. Owlwatch Good Time Charlie.
Because we only have 1 litter a year, it sometimes means waiting to get your puppy. Contrary to what you may think a good kennel does NOT have puppies available all of the time. We have a very limited "designed" breeding program so we can't pull them out of a hat when people decided they want to get a Great Dane, so you need to plan in advance.
I work closely with my friends and co-breeders Phil and Jane Gray of Owlwatch Kennels. Between the two kennels we have accumulated 64+years of experience in this breed and we have very specific requirements for puppy buyers, be they show or companion quality.
At the current time, we are focusing on two separate bloodlines. Fawns and Brindles and the other is Blacks and Blues.
REQUIREMENTS OF NEW OWNER
Our puppies must be house dogs, not kennel or outside dogs.
You need to purchase a colossal Dane crate (we canl tell you the size and where to purchase.
You must have a fenced in yard, fully secure and invisible fencing is NOT acceptable because it does not alway keep a giant breed in and it certainly does not keep other dogs out - if your dog has a high prey drive and a little squeeking fuzzy comes over into your yard it's fair game for the dog. It only takes one shake and one second for that little dog to be killed.
You must feed the Blackwatch Feed Programs (Puppy) and (Adult) with no exceptions, for the life of the dog or any guarantee is invalid.
All puppies must be vaccinated according to Dr. Jean Dodd's Vaccine Schedule or one that we approve. No Fort Dodge Vaccines - our preference is finding a vet that uses Merial brand.
Companion quality puppies it must be spayed or neutered according to our schedule and age, and we will educate you as to why this has to be done this way. Spaying to early causes incontinence and permanent immaturity in males.
We sell our dogs on a legal binding contract, there is no health guarantee on the puppy if this contract is broken.
If you cannot keep the dog it

MUST

come home to us. It cannot be sold, given away or sent to a shelter or rescue facility.
You will need

3 character references,

which we check so provide me with phone numbers, addresses and email addresses. One of these should be your vet of you have one.
Send photographs or family video along with a narrative about you and where your puppy will live.
What happens if there is a divorice in the family - who gets the dog?
A schedule of your normal week and how much the dog will be alone in a crate.
Will the dog be boarded or do you have a dog sitter when you are out of town?

A statement as to why you want a Great Dane
What do you feel you have to offer this puppy.
---
OUR COMMITMENT

We have bred, trained and successfully shown and finished many champion Great Danes in 34+ years in the breed. All our dogs have had their health tests. We are here to educate and assist our puppy buyers when needed. You do not purchase a dog and go away, you join the Blackwatch/Owlwatch family for life by making ourselves available to you.
We are there if you need us, but do not put pressure on you to connect, unless you need help. Getting a dog from us is like adopting a child, so if you don't feel you have the commitment for one of our puppies, then it is not necessary to go the next step in this process.
We do not let our puppies go into their homes until they are 10-12 weeks of age and they are on the way to being house trained, crate and lead trained and will stand for examination and are well socialized.
Ears, if cropped will be healed and you will be sent home with instructions for taping for your vet. We can try to locate a vet or breeder in your area that knows how to tape the ears and we will sell a natural eared dog if that is your preference.
Our pet/companions are sold shots up to the age they leave, cropped, wormed, health guarantee, and initial training (crate, leash, standing for examine, house breaking started) before they go home. Show potential prices is discussed individually depending on age and quality of dog you are purchasing.
---
Cost of a Blackwatch - Owlwatch Great Dane:
Our companion (pet) puppies on spay/neuter contracts, with limited AKC registration, are between $1000 and $1500 depending on the age. An older puppy with all the work done is of course more of an investment. They will be vaccinated, wormed crate trained, lead trained, well on their way to house training, socialized; used to kids, dogs, cats, people and riding in a car and all dogs are trained for standing for examination.

Show prospects are more and dogs with points toward their championship will be more costly depending on the points won etc. Cost for a show/breeding potential puppy will be discussed on an individual basis.

If you reserve a young puppy we will sell a natural earred puppy if that is your preference. We do crop at 7/8 weeks of age so this arrangement has to be made prior to the cropping age. All our litters are bred from both champion "parents", with health checks and health guarantee.
I can safely say if you are wanting a companion/pet puppy you need to have about $800 -$1000 set aside, besides the cost of a puppy, to get set up, to purchase the equipment needed: crate, toys, bowls, bedding, collar/lead and the food(s) and supplements we recommend. Don't forget to calculate the monthly cost of heartworm preventataive (INTERCEPTOR), flea/tick topicals, shampoo etc.

This does not include any other expenses you need to incur, such as a fenced in yard, a dog sitter ( this breed does not board well and does best when a routine is maintained), and a new mini-van so your puppy travels in style! :)
Plan on the cost of food and supplements (Blackwatch Feed Program) to cost $175 - 200 a month, and we suggest you have a separate account or piggy bank and set aside $100 per month to cover any future vet bills that you may incur. No matter how well they are bred and fed, there are still vet expenses, that is the nature of living things. Remember giant breeds are exotic pets and have special needs.
---
If you are seriously interested after reading this, send me an email and we can start the next step of the process.
GrDaneLady@aol.com
See my list of top breeders in the "Breeder Showcase" at this site.
Linda Arndt

Blackwatch Great Dane Kennels - est.1973