Shanon & Bella
July 1, 2012

Editorial Note: The Heart Kit she is referring to is from my Blackwatch Feed Program for Heart Support. Every dog is different but we have seen many have extreme success with this kit, expecially when it is caught early enough. The Heart Kit #21 can be purchased at FirstChoiceNaturals.com
---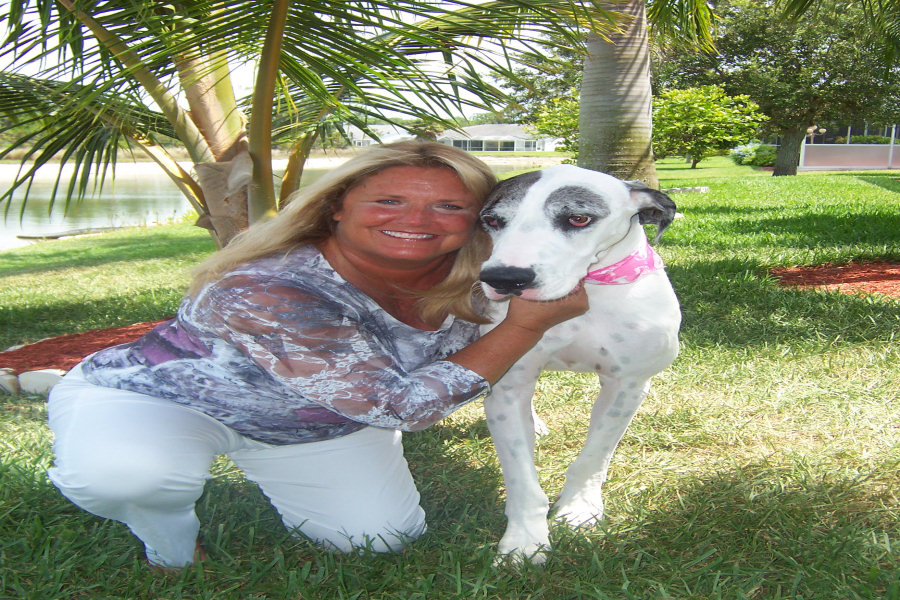 CHLOE'S STORY - Wobblers Syndrome
On May 31, 2012 my local veterinarian diagnosed my 3 year old Great Dane, Chloe, with Wobblers. This was just a confirmation for me. (I knew she had Wobblers as I had a 2 year old Dane diagnosed with Wobblers and euthanized approximately 20 years ago.) Chloe's condition was deteriorating very rapidly. My local vet put her on strict bed rest and she was never to wear a collar again. The day she was diagnosed she could barely walk in or out of the vet's office. It took 2 or 3 of us to get her in and out of my SUV. I was referred to the Animal Specialty Hospital in town who had a neurologist on staff. Over the phone they said they could possibly help her with a surgical procedure to her cervical spine. I am a Registered Nurse and after reading about this procedure I knew it was not an option for Chloe. I was not going to put my dog through a long, penned up, painful recovery time that may or may not work and she would have restrictions for the rest of her life. You see, Chloe was different from every Dane I have ever had (I have had 5 Danes). Her spirit is rambunctious, mischievous, and extremely full of life and curiosity. She is also the most loving sweet dog I have ever known. We call her the GIANT dog!

My husband and I had made an appointment to euthanize Chloe 10 days after her diagnosis. She could no longer walk and had to lie down to do her business. She had become very lethargic and fatigued and had stopped eating. She had lost 15 pounds. As she was rapidly declining I was frantically "googling" away. I have become a walking encyclopedia on Wobblers disease. I finally found "GreatDaneLady.com" website one late night while "googling" in bed. Not only did it have great articles about Wobblers, but it also had some suggestions for treatment. One of the treatments was called "Gold Bead Implants", which is a form of permanent acupuncture for dogs! I was gaining hope! Also in the website was a directory of veterinarians in the nation who did the Gold Bead Implants! I was elated and could not wait until morning to call the vet that was listed in Miami, FL. We live in Naples, FL. The next day I called and sure enough they asked for me to mail Chloe's x-rays and records to them! I overnighted all that they wanted, cancelled Chloe's euthanasia and made an appointment for Chloe to see Dr. Ferran in Miami for June 15. On June 15, my husband and I and a neighbor lifted our paralyzed princess into the back of my SUV and made a mad dash for the vet's office in Miami. Again it took two of us to lift her out. Dr. Ferran evaluated her…my emotions were very high and he consoled me as I asked him if he had ever seen a case of Wobblers this bad. She could not walk! He said he had seen worse! Again I had hope! After his evaluation he said yes, he could treat Chloe with the gold beads !!!! I left her with Dr. Ferran and his staff and tried to keep my mind occupied with shopping and seeing a movie as he had said he would have her all day! Finally at the end of the day he called and said I could come to pick her up and take her home! I got to his office, they brought out our princess and she RAN to my SUV with assistance of 2 of the vet techs. WOW! We all lifted her into the car and Chloe and I were homeward bound! Dr. Ferran said to give it time and have Chloe take it easy, that she was just to go outside to do her business and that was all. He called me twice a day for 4 days checking on her progress. I have to say we have experienced a MIRACLE!!! Each and every day, Chloe improved! She started walking almost immediately, still with a "wobble", yet at least walking. She slowly started to eat again and play with her babies. GOD was good! As each day passed she walked better. 2 weeks later she was trotting. July 4, she was chasing the ducks, leaping onto our king size bed, playing with her babies and our 2nd dog and driving our cat crazy! Today, I have to say she is back to her normal, mischievous self. Maybe even better! Upon our 2 week follow up visit with Dr. Ferran he said Chloe would live out her natural life!
THANK GOD! WE ARE ECSTATIC!

I have to say that the Great Dane Lady, Dr. Ferran and GOD have saved Chloe's life! This is purely a MIRACLE and I cannot say enough good things about Dr. Ferran. He is a kind devoted soul who cares deeply for his patients. Thank you so much for your life saving website Great Dane Lady! I want to be an advocate for all dogs that are diagnosed with wobblers! Gold Bead Implants treat many other conditions as well and I would highly recommend people look into this alternative healing method! With much love,
Gail and Tony Hansen, and CHLOE, the GIANT DOG!
---
Editorial Comment: What a wonderful story with a happy ending for Chloe and her family. I do want to emphasize that gold bead implants AND nutrititional support are the two most important things for Wobblers dogs. Especially in order to maintain this type of results over time. This miracle has only been 3 months and although there is no guarantees in life, I can tell you that the dogs who have live 3, 4, 5+ years beyond the original diagnosis were supported nutritionally as well as bead implants. In fact, there are numerous dogs who are unable to have the gold bead implants done either due to finances or location of a veterinarian, and they have done very well with a few life style changes and a change in diet along with the supportive supplements found in the
Blackwatch Feed Program for Wobblers Support.
---
Dear Linda:
Thank you for nearly 12 years of wonderful nutritional guidance for my Great Danes. I am attaching a picture of Blue Chips' Fortune 100 (call name Wonder) for you to see, as she is a product of my unfailing commitment to the Blackwatch Feeding Program and Nzymes throughout her life. I am happy to report that Wonder will be 12 years young soon, and you're support is certainly a part of why she is so alert, mobile and happy in her geriatric years. Thank you, Linda, for all your help over the years!!!
In Appreciation, Arana and Wonder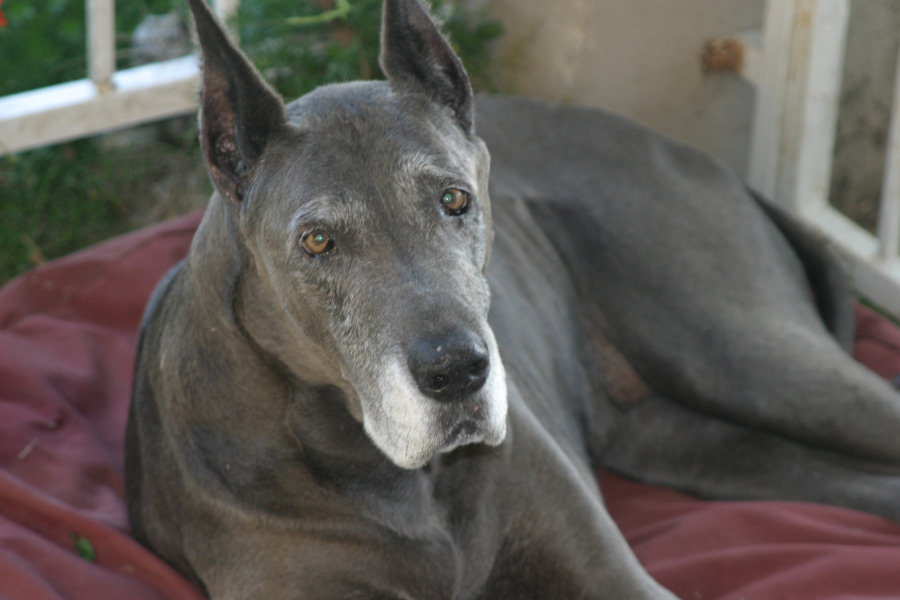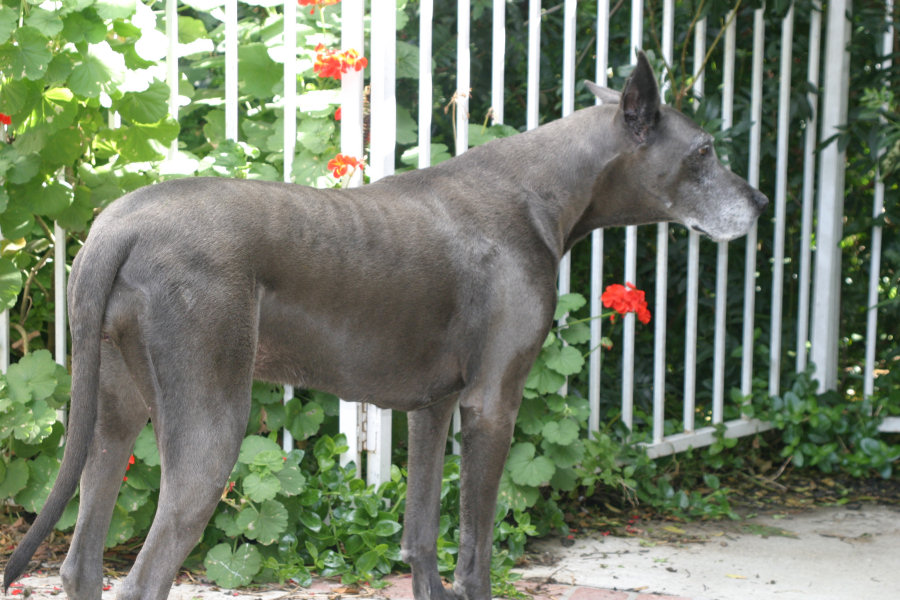 ---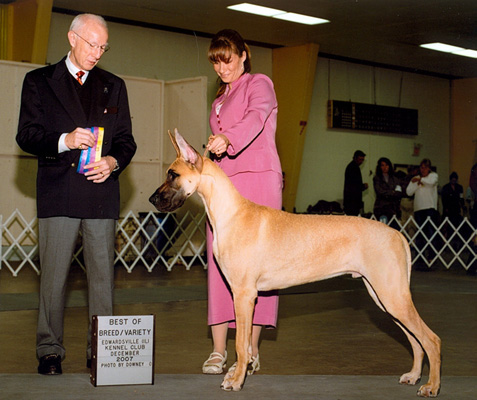 Hi Linda,
I just wanted to send my thanks and appreciation for taking the time last Thursday to diagnose the issue we were having with Caisson's hives . You were absolutely right about the contact allergy! (leather couch cleaner). We've removed all cleaning supplies from the house, have been washing our laundry in Purex, and have covered the leather couches that were just cleaned with a leather cleaner. Within 24 hours the hives were down to a manageable level and we were able to go to our scheduled show for the weekend taking WD and BOW on Saturday and WD, BOW, and BOB on Sunday. Caisson even made the cut in the Group ring! He is far more comfortable too, which of course is the most important thing to all of us. You are amazing and so appreciated!!!
Thank you again,
Jessica Allen
CONGRATULATIONS on this great win !! Caisson was the Best in Futurity Puppy at the Great Dane National Speciality - 2007 - Photo above is Caisson going BEST OF BREED from the Puppy Classes. Caisson is on the Blackwatch Puppy Feed Program.

---
Linda,

I was referred to you by a woman who bred Great Danes, but now is in Boxer, as we were frustrated to get help with a very promising show potential Boxer puppy who displayed signs of Ricketts. I started the Blackwatch Feeding Program you recommended, and within just one week, we saw a miracle unfold. I am including a link to Stewie's photo album, so that you can see the progress of this very special little guy. The twist in his mouth was so severe that he could not chew. I don't have this week's photos posted yet, but the left side of mouth is now starting to grow out like it should. Thank you just doesn't express what your Website has meant to us. Bless you!

Sincerely,
Beth Loulan & Stewie
Bethel Ridge Boxers

---
Beulah's Story

In the aftermath of the 2005 hurricanes, Eagle Pack Pet Foods* responded with as much pet food as would fit on a 40,000 pound truck, as well as monetary donations to try and help get the animals back on track and make a quick recovery.
Shortly after the truck arrived, a lady who had assisted in the rescue efforts, contacted Eagle Pack with a story about a dog that had been left for weeks and was unable to lift her head. The dog was not expected to recover but a rescuer took the dog home with her anyway. Eagle Pack received an email about a dog going by the name of Beulah, who needed help in a bad way. The concerned lady who contacted Eagle fed the food to her own animals and was sure that it would help with the recovery of Beulah. Eagle was put in contact with Beulah's rescuer. The rescuer emailed some photos of Beulah several days after her rescue, and immediately Eagle recognized the need to get her on a high protein and fat diet to help get her back on her feet nutritionally, as she was severely emaciated.
Eagle rushed a bag of the Eagle Power Pack Formula to Beulah's new owner, along with the new transition supplement, Holistic Solution. Within several days Beulah was on her new food, and starting to make a full recovery. Within a week, Eagle Pack received an email from Beulah's rescuer, with a new photo of how quickly she was recovering. Beulah is expected to make a full recovery, and she seems to be very happy in her new home. I received the food you sent yesterday, and Beulah loves it!!! She was totally sticking her nose into the bag before I could even open it :-) So cute! Anyway, she gobbled it up, along with some of the supplement. I think it will be, already is, a big hit with her.
Thanks so much for your generosity. Mika van Raalte
* Note, Eagle Pack Pet Foods company is now under new ownership when the owner died and the company was sold. It is no longer on my list of better foods. .
---
A Rescue Story: Elijah and Savannah - From Oklahoma to New York!
---
Hi Linda,
How are you? I just thought I would let you know that I have started using Nzymes and Ox-E-Drops in my practice and I can not believe the results.They are incredible. I have only had one client get on my program, but I know these things take time to work up to so I will not get discouraged. Every dog that I get on the Blackwatch Program will be the better for it. Since my dogs were really healthy I did not see too much of a change except the energy level in my older dogs was higher and their coats now feel like butter. But since I have been using it on problem animals I am seeing a real difference.

All of my surgeries now go home with Ox-E-Drops and I am going to try to put them on systemically before major surgery. It is so exciting. I can not thank you enough for turning me onto this alternate way to curing my patients.

Just for your info my dogs stopped having gas attacks just like you said and I do not think I have had a fart in a month which is a record. And they all have more energy than they need but I can deal with that. Thanks again and thank you so much for guiding me to a place where me and my dogs will be healthier. Thanks Doc Kitty
Kenyon's at Dog Creek Great Danes
Striving to breed dogs that are spirited and courageous, always friendly and dependable.
---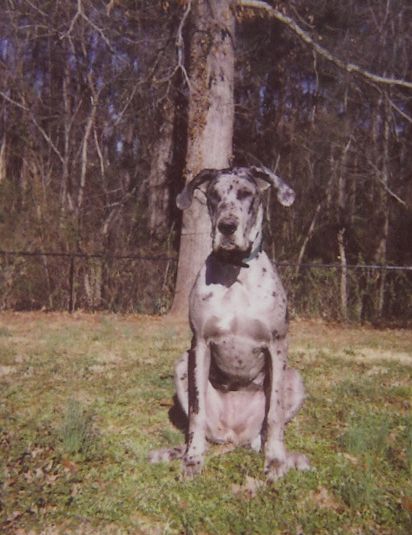 Mya's Story
Mya is my female dane puppy who had a very difficult start in life. Not long after I got her home she had three Urinary Tract Infections from the time she was 8 weeks old till she was 4 months old. At 4 months of age Mya got Parvo and had a severe case of it. My vet told me she almost died twice while she was at her hospital. After she got well from the Parvo she started having diarahea on regular basis. I also noticed she was going to the bathroom anywhere from 4 to 6 times a day. Everytime I thought the diarahea had stopped it would come back again. I was put in touch with Linda Arndt who suggested putting Mya on BacPack Plus. Since Mya has been on the BacPack Plus she has not had diarahea and she also doesn't go to the bathroom as often. I would highly recommend BacPack Plus to anyone who is having any type of problems as Mya had been tested for everything and all her test results came back normal. I am very grateful to Linda for taking the time to help Mya overcome her health problems. Mya just had a recheck at the vet and my vet said Mya is in excellent health. I will always keep Mya on the Blackwatch Feed Program
Renee
---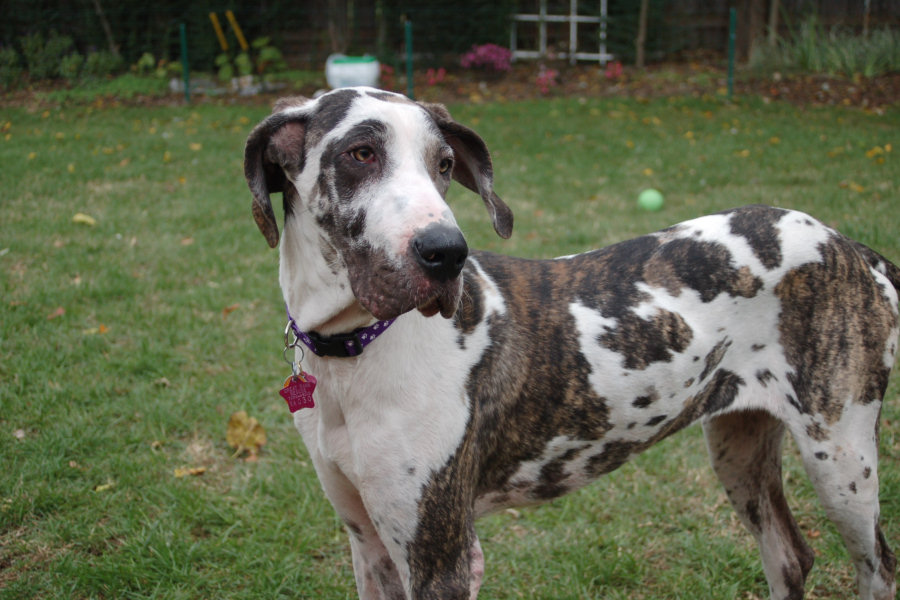 Savannah's Story
The history that we have on Savannah our "brindle-quin"is that she is the product of a backyard breeder in GA. The woman who bought her had her until she was 6 months but did not have time for her. As a result she was confined to her crate close to 24 hrs a day. When she came into Mid-Atlantic Great Dane Rescue League in late October 2006, she had a bad case of demodex, a staph infection, eye infection, was about 15 pounds under weight and was malnourished so that she had flat feet.
She came to me as a foster puppy but I had her about a week and knew I could not give her up. She fit in perfectly with our house and my other Dane, Maui fell in love with her. So we quickly adopted her and started working on the long process of clearing up her health problems. She is now a healthy 95 pounds and in good shape. With lots of good food and exercise her feet have even tightened up and look good. She is a joy to be around and is one of the most loving girls I have ever met, good with all people, kids and other animals.
It was quickly evident that she had separation anxiety issues. She would go willingly into the crate but once you left, she would start to escape. She figured out how to undo the locks on the crate door, and would start to bite the bars until they came undone from the frame (which also created pools of drool all over the place). I even set up a nanny cam to see what she was doing-it was not pretty. She would even undo the bottom lock and then squeeze thru the tiny opening in the door and scratch herself all up. Currently she is on crate #3. We did try letting her have the run of the house with rooms blocked off but she would chew anything she could including ripping pictures off the walls. After a few weeks of trashing my house she had to go back in the crate.
We began in January 2007 to work with a behaviorist. All the training and tips we tried really did not help for more than a week or so at a time. We then decided that it was time to try drugs to help calm her down. She was put on Chlomicalm and Xanex, the maximum dosage for both. Neither of these really did a whole lot. She stopped biting the bars but would rock the crate across the room and continue to drool.
About a month ago we discovered her demodex came back and the vet did some research and found out that in combination with the anxiety drugs it could have toxic side affects so the drugs had to stop. I was also concerned about the long term side effects that those drugs would have on her liver and kidneys as well. That is when I emailed you to see if you had any suggestions.
That is when I found this website and you suggested the use of a natural supplement called Canine Relax-N. We have been on the powder since May 19th (3 weeks) and it has made a world of difference so far. I started slowly with her in the crate in the morning and then loose in the house in the afternoon. We did this for about 2 weeks. The last week she has been loose all day and no destruction or accidents. Even when in the crate she is calmer and does not try to move it across the room.
Given her history with all we have tried, I know we may experience some temporary setbacks as we continue thru our journey, but so far the overall change is amazing. She is still her Velcro loving self and it has not affected her personality at all. She just seems more at ease. This has definitely convinced me that there really are major benefits in holistic treatments.
Kristen
Mid-Atlantic Great Dane Rescue
For the Feed Program for Anxiety and Nervousness click here
---
Hello,
I am the owner of a 3 1/2 year old Newfoundland who has had skin problems since the age of 6 months. I was told numerous times it must be allergies. After an endless cyle of medicated shampoos and antibiotics, I was even questioning whether I should ever get another Newf. She used to have a beautiful coat, but after a particularly bad skin infection last August, her hair didn't seem to be coming back and was beginning to look thin. She also started refusing to go up or down any stairs, and we thought she had hip problems.
After doing some research on the Internet and NewfNet, I came across your website. I was skeptical but was at the end of my rope and decided to try all your suggestions. I had her thyroid tested (yes, it was very low) got her on the yeast removal program , switched her to your feed program and put her on Liquid Health Level 5000 from a brand that contained brewer's yeast.
I started this in March and I have to say it was very difficult. Things did get worse before they got better, and my husband thought I was nuts to be doing this. One thing I should mention too is how wonderful the soft Elizabethan collar is from Bonafido. It was a life saver and she did not mind having it on. Slowly things got better and now just 4 months later, her coat is almost all the way back and is beautiful, she no longer hesitates to go up stairs, and she has had no skin infections. A couple weeks ago I decided to try the new Wellness Pure Rewards treats. After a few days she developed a couple pink areas on her groin, and I quickly stopped. I don't know if it was a coincidence of not, but I wasn't about to try and find out if that was the culprit. I will stick to what I've been doing.
I plan on continuing everything I've been doing and I am very happy to not be a slave to my dog's skin problems, and thrilled she is comfortable, healthy and happy. Thank you so much!
Sincerely,
Eileen Dunnack
---
Hi Linda,
I wanted to follow up with you and give you some new pictures of Aspen. She is now 5 ½ months old, past the HOD and weighs 57 lbs. and is doing great. She is eating 3 cups of Precise Holistic Complete Large/Giant Breed Puppy, 2 times daily, complete with all your recommended supplements for HOD. She is back to being a puppy. Thank you very much for all of your help with HOD.
Sincerely,
Linda Myers
---
Dear Linda - Thanks so much for the compliments on our "kids" - we love them too! I have used your website many times when looking for info on feeding, etc.
Our fawn boy sustained an injury to his shoulder which was diagnosed as traumatic OCD and pano when he was four months old and we were told that he would need surgery by a respected orthopedist. Despite my vet's and the orthopedist's objections, I asked for a trial period prior to any surgery to utilize your OCD feed program along with Adequan.
I am thrilled to report that, to this day, he shows no evidence of OCD (his other joints were all clear from the outset) and his movement is one of his greatest strengths. My vet is now a believer and is now recommending this to other patients! I'm indebted to you for all your research on the extremely important topic of nutrition and supplementation (which is so neglected in vet education).

Thanks again,

Debbie Oliver
www.ladridogrande.com