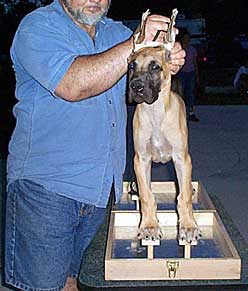 The AKC Standard for Great Danes dictates that in order for a puppy to be shown at 6 months in an AKC show, the males must be 30" at the shoulders and a female 28" at the shoulders, in order to be eligible for competition.
I have found over that past 15 years, feeding the Blackwatch Feed Program for Puppies, that our Great Danes grow at a more appropriate rate and they are often less than 30 and 28 inches at the shoulder at 6 months of age.
This has never been a problem for us, in the long run, because they reach their genetic potential at a slower and even growth rate. This "even growth" provides the muscle development to support the bone mass of the animal making them more sound and agile. Since bone cancer, specifically in the joints, is one of the top killers in this breed, it is my opinion that slow, even growth is critical to potentially avoiding any orthopedic disease or cancer problems down the road.
So the moral is: Pet puppy owners - BE PATIENT and stop measuring and guessing how big your Dane will be when grown. You can't force an acorn to be an oak tree over night. For show people, let them be puppies first, you can finish them when the time is right - focus on training, manners and socialization.
To show you that size is not determined by how tall they are at 6 months of age, take a look at our 2002 National Specialty Winners - Winners Dog and Winners Bitch and Best in Furturity now (37" and 35") and neither of them came up to the height standard of 28 and 30 inches at 6 months of age.
If you see some irregular growth rates in puppies under 6 months, the use of MSM nutritional sulfur is very beneficial - I order mine online at ~ www.FirstChoiceNaturals.com