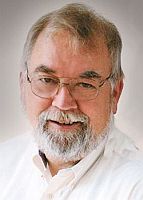 Joe Cocquyt
Original Owner and Originator of Eagle Pet Foods

Eagle Pet Food's founder, Joe Cocquyt died on May 4, 2008. Joe was the driving force behind Eagle Pack Foods and the development of Eagle Natural Pack along with Kevin Patterson and the input from my feed trials and the National Bone Survey Research(5200+cases) which was done in the 80's. Joe and Kevin took this information and developed a food that would work for giant breed growth. (Eagle Natural Pack). Then Joe allowed me to do extensive, long term giant breed feed trials on Natural Pack. To this day it was the only dog food company that has done any extended feed trials on giant breed growth.

Joe was one of the most knowledgeable person I have ever known when it comes to performance nutrition and he was highly respected in the industry. He was a great friend and mentor and I am forever grateful for all he has taught me over the past 30 yrs. Any one in the pet food industry, here or abroad, knows Eagle Pet Foods, "IS" Joe Cocquyt. His dedication to animal nutrition through his performance line of foods has saved pet's lives and provided life long health and extended longevity for our pets. As a friend, his insights will be sorely missed by all who knew and respected him. It is also with great respect that I acknowledge Kevin Pattersons input and guidance in the actual manufacturing of these foods, with out his direction in the manufacturing end of it, these foods would not have been the quality that we came to know and depend on.
---
THE END OF AN ERA

After Joe's death, Eagle Pack Dog Food was acquired by Berwind Industries. In 2008, Wellness Dog Food was also acquired by Berwind and the two companies were merging into a single entity called WellPet LLC. They now have the Eagle Pack line, a Super Premium food, the Holistic Select line which was the Eagle's Holistic line. Then on the Wellness side they still have the Wellness line up of dog foods. They retained the Eagle dog food plant which was a wise move, due to it's new equipment and labratory then expanded in 2012 with a new $20 million state of the art manufacturing facility. This was done to have more control over source of materials used in the food and the manufacturing process, all for saftey issues for your pets.

---
When One Door Closes, Another One Opens...

On May 7, 2009 at a Zoomark International Trade Show in Bologna, Italy - a new dog food is being introduced for overseas distribution. This food is dedicated to the legacy of Joe Cocquyt - the founder of Eagle Pet Foods. This food is called GOLDEN EAGLE holistic line of pet foods. It is made exactly to Joe Cocquyt's stringent specifications given to a friend before his death. Joe's recipes and secrets, the highest quality ingredients and the best manufacturing practices brings this visionary line up of holistic foods to the international markets. Within a year or so it will be available in the USA and Canada.

What an amazing legacy to have this food developed per his guidance and instructions in life, then upon his passing it manufactured and dedicated to his life's passion - Eagle Pack Pet Foods. So EAGLE as we knew it previously, "IS" still alive, and it will be released in the USA and Canada in 2010.

GOLDEN EAGLE includes a line up of 9 foods parallel to Eagle Original, Natural Pack, Holistic Chicken/Rice and the Large/Giant Breed Puppy and Large Breed Adult, Holistic Senior and a Power formula. There is also 3 unique protein foods; Duck, Salmon and Lamb diet and a feline line up as well.
These past few months of feed trials on my dogs and with other kennels, doing comparison and analysis on pet foods I have decided to use and endorse PRECISE and PRECISE HOLISTIC COMPLETE pet foods. This company has always been on my list of better foods, but it had some distribution pockets that made it difficult for people to purchase.

Now with a wonderful new VP in place, Kirk Young, there are advances in distribution over the next year that will make this excellent food available pet owners. It is an honest line up of foods with a solid history, it is family owned and they own their own manufacturing facility with a 100% safety record and an AIB Superior Rating. In addition 4 of Eagle's top sales staff are now on board at Precise to enhance the availability of this product line.

In late April 2009 I was asked to come on board at Precise as a nutritional consultant to help update current formula (additional joint support, removal of Vitamin K, multiple Probiotics/digestive added to all foods), and in 2010 there will be some exciting new additions to their line which will provided even more growth for Precise Pet Foods.
I am excited about the future for both companies, Holistic Precise Pet Foods and Golden Eagle Holistic Pet Foods and will be highly supportive of both companies in this growing holistic market.

For me, I want my puppy buyers to have viable options and how great it is to have choices depending on your pet's needs, availability, and cost considerations. From April 8, 2009 forward..I made a decision that I will only be using and endorsing pet foods and supplements that are family or independently owned and operated. Please support the independent pet supply shops, groomers, training facilities etc. and not the "big box" stores where our pet's health is potentially compromised due to inferior quality.

It's not always about "the bottom line", it's about doing the right thing and the money will follow.
Linda Arndt
The Great Dane Lady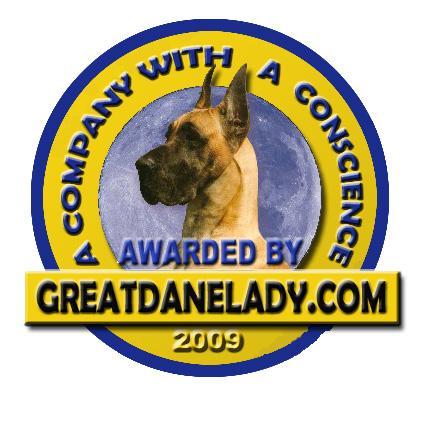 ---