Paralyzed Dog Information - http://www.dogparalysis.com/index.html
Who………..
Charles Khouri MD
Khouri Diabetes Eye Center
9000 SW 87th Court
Suites 206 -207
Miami, FL 33176
E-mail address: drk@dogparalysis.com
Phone: (305) 596 - 6040
Fax: (305) 595 - 5171
http://www.dogparalysis.com/index.html

What - Dr. Khouri developed a novel compound CP7, a Human Leukocyte Elastase/Protease Inhibitor with anti-inflammatory properities.

How - Elastase is an enzyme that destroys elastin and it found in every tissue in the body. When any tissue is damaged for any reason, collagen and elastin are sent to the area; elastase destroys elastin and collagen develops into a scar. The compound inhibits the elastase (and protease enzymes), thus preventing scar formation and helping the tissue to reconstruct itself.

Research and The Study

Compound CP7 is a Human Leukocyte Elastase/Protease Inhibitor, a synthetic tetra peptide carbamate. Theoretically, it may be preventing White Blood Cells from reaching the inflamed tissue and prevents those that do reach from releasing destructive enzymes, such as proteases. Normally the WBCs destroy inflamed tissue and is replaced with a scar, collagen. Elastin is normally destroyed during the process of inflammation and healing. Compound CP7 is a Human Leukocyte Elastase/Protease Inhibitor, a synthetic tetra peptide carbamate. Theoretically, it prevents WBCs from reaching the inflamed tissue and prevents those that do reach from releasing destructive enzymes, such as proteases. Normally the WBCs destroy inflamed tissue and is replaced with a scar, collagen. Elastin is normally destroyed during the process of inflammation and healing. Sixty dogs with paraplegia were able to walk after 2-4 weeks of treatment. Another dog with paralysis of the four limbs started running in less than 4 weeks of treatment. This is documented on video. No systemic or local side effects after more than a year of treatment.
---
Dental Products for Dogs and Cats
LEBA III - an herbal spray that causes no enamel damage and no side effects but dissolves plaque on your pet's teeth. It saves pets from the trauma of anesthesia and saves the expense of periodontal cleaning. Research Is present at website - double blind studies and illustrations - it works. For information go to www.lebalab.com

The Triple•Pet Toothbrush gets the job done faster, easier and better. The three flexible heads maintain the proper pressure on all surfaces of the tooth with every stroke. In addition to the standard top bristles, the two side bristles are at the proper 45 degree angle for thorough surface cleaning while the soft outer bristles massage and stimulate your pet's gums. By running the brush over thinner and thicker parts of a finger, you can see Triple•Pet's independent brushes in action! To order: http://www.benedent.com/tp_brush.html

---
On The Move ...
Trips With Pets
"The Premier Guide for pet travelers and their people" - Featuring pet friendly hotels, bed & breakfasts, vacation rentals, resorts, campgrounds, and other lodging where your dog, cat, or other furry friend is welcome. Plus! pet friendly restaurants, activities, airlines and more! http://www.tripswithpets.com

DogsFriendly Website
We publishe U.S. and Canadian pet travel guides for dogs of ALL sizes & breeds.
http://www.DogFriendly.com

Animal Land Pet Movers

Animal Land, Inc. was established in 1998 and has been successfully transporting pets ever since. Whether it is internationally (our specialty) or domestically, no job is too big or too small. Safety is our number one concern and we are fully bonded
and insured for your peace of mind. We are licensed by the USDA as intermediate animal handlers and have a registered security program with the United States TSA. We are also registered as Indirect Air Carriers. We are members of IPATA, the Independent Pet and Animal Transportation Association and strictly comply with all rules and regulations of the Animal Welfare Act. http://www.petmovers.com
---
Care and Comfort
Recovery®SA - is a new type of pharmiceutical, the wave of the future in drugs. I have suggested it's use in two situations and but had remarkable success on my Feed Program for Orthopedic Problems, which includes the Recovery SA product. Recovery®SA contains Nutricol® a proprietary combination of proven ingredients extracted from grapes and tea. Nutricol® decreases trauma - from chronic lameness, surgery, injury and over-training - by both increasing the cell's resistance to damage & improving it's ability to repair damage.
Contact: http://www.recoverysa.com/
Pet Survival Sack - BE PREPARED
Food-A three day supply of food for a 50 pound dog.
Scissors-To cut coflex tape, gauze and to clip hair around wounds.
Biocaine Lotion-For treatment of wounds, abrasions, minor burns and hot spots.
Earoxide-A gentle ear cleanser. Gauze Roll-To clean, cover and cushion injuries. Gauze Roll can also be used to fashion a temporary muzzle. (Even the most loving animal may bite if they have been injured or are sick). Alcohol Prep Pads-Use to clean scissors, tweezers, and hands. (Do not use on wounds).Cold Pack-Use to reduce swelling or pain. Do not leave animal when in use to avoid digestion.Vet Wrap-A flexible bandage used to wrap and stabilize injuries. Adheres to itself, no clips or tape needed. (Caution: do not wrap so tightly that circulation is cut-off).Gloves-To protect hands and prevent contamination of open wounds, burns and abrasions.Opticlear (A gentle eye wash)-Read and follow individual package directions provided on bottle.Iodine Prep Solution-Antiseptic solution for cleansing wounds or burns. (Caution: Follow directions on label). Emergency Food and Water Bowls-Collapsible bowls. Triple Antibiotic Ointment-Inhibits bacterial growth in cuts and abrasions. Promotes wound healing. (Caution: read and follow directions on label).Tweezers-To gently remove foreign objects from skin and paws.Cotton Rounds-Cotton padsProtecta-Pad– For dry cracked pads, restores lost moisture. Emergency Contact /Check List-Lets you record important information such as nearest shelters, motel/hotels,Out of state friends/relatives, etc. Identification Cards-Lets you record pertinent information such as your name, address and where you can be reached, medical information and your pet's sex, age, color breed, etc. Also, displays your pet's picture. Homeopathic Emergency Kit (add on to basic kit) -contains 18 1/2 dram vials of Homeopathic medicines. http://www.barfdirect.com
Fleecy Beds - Linda's Favorite **
Fleecy Beds are Double sided - long lasting thick beds. Some of my Fleecy beds are 10 yrs old and still in pretty good shape. I think these are the best on the market and clean up well with a little bleach in your washing machine. (I do not use soap or fabric softener on dog bedding or toys because they cause contact and respiratory allergies). The 30x40 in fit perfectly in the Colossal Dane Crates. I layer them for added comfort. http://www.petgoodsmfg.com/beds/
Here is the link to a distributor: http://www.petgoodsmfg.com/links.html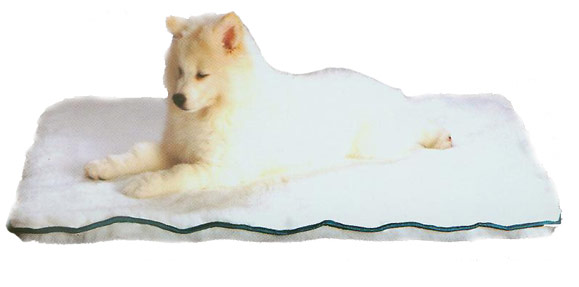 Newton Homeopathics
Newton Homeopathic complexes are the simplest way to care for your health. Newton makes easy to use formulas, promoting health and wellness for the entire family, pets included. Our remedies are safe, effective, have no side effects, and are economical.
https://www.newtonlabs.net/index.asp
The Anxiety Wrap - A wonderful tool that helps animals to cope & overcome their past and present issues. It aids an animal's ability to focus & remain calm and compliments the use of gentle training methods. http://www.anxietywrap.com
---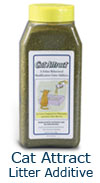 Cat Attract Litter Additive - herbal product
Dr. Elsey's Cat Attract Litter Additive contains a scent that naturally attracts kittens and cats to use the litter box. It was created through years of observing and testing cats in shelters and Dr. Elsey's clinic. Industry statistics show that non-use of the litter box is the number one behavioral reason cats are abandoned, abused, and placed in animal shelters. Designed for cats who are not using their litter boxes, Cat Attract is the first litter additive to specifically address this problem and provide a clinically tested and consumer proven solution..
http://www.preciouscat.com/
---
Green-UM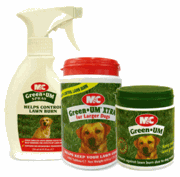 Lawn damaged from urine and feces can often be a frustrating problem. Green-um is a natural nutritional supplement with amino acids, B vitamins and vegetable substances, Green-ums active ingredient is Glyco Component C1 from the Yucca Schidigera Plant, which prevents unsightly lawn burn from dog urine. It binds or neutralizes the nitrogen compounds in the urine or feces. It is effective within one day of use. It does not effect the internal organs of the dog.
http://www.entirelypets.com/greenumtablets.html
---
Get Serious - A new type of stain, odor and pheromone extractor that helps to reduce pet allergies in your home as well as stops marking.
http://www.getseriousproducts.com/
---