Pet owners ask me what other supplements or products do I use or recommend for specific issues. I also have my own line of holistic treats that are now available see below.
---
Dog Beds - I love the Kuranda Beds the best and so do the dogs. It gets them up off of the floor and you can put a fleece pad on it for extra cushion or in the winter, and in the summer they love the fact that the cool air circulates under them. I use them in the house and outside. Easy to clean, very sturdy and nothing to chew, in fact they come with a chew guarantee! When you contact Kuranda, tell them the Great Dane Lady sent you. They will donate 5% to the Warrior Canine Connection. My Pug, Collie and Sheltie love them too, and it really helps keep their coats from breaking off from laying out on the patio or gravel in the summer.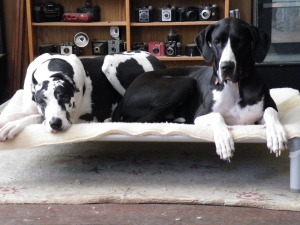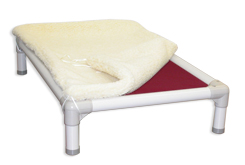 ---
TOYS - No pig ears, cow hooves, raw hide of any kind, string toys, booda bones or cooked bones or Greenies -and absolutely no tennis balls. These are all things that can kill your dog.

Why No Rawhide?
First, the majority are processed with lye, something your dog does not need in his/her stomach. Also, they are not digestible and can lay in the stomach or intestines and not pass through, causing an obstruction or causing pathogenic bacteria to grow which equals BLOAT. We do not need to encourage bad bacteria in animals that are prone to bloat and gastric torsion. They are also a very serious choking hazard. So to be on the safe side, for nutritional and safety reasons, I will suggest something other than rawhide chewies.
Why No pig ears/snouts/cow snouts and cow hooves?
There are two reasons for not using these, Salmonella (bad bacteria) and the fact that the ears/snouts will splinter and can puncture an intestine and the same is for the cow hooves. Frequently, vets are removing them because they cause an obstruction.

NO - and I mean NO Greenies!! These things have killed dogs due to choking and they are full of gluten which causes dogs to have major skin problems and allergies. This is true of any chewable bone, check content Nylabones have a gluten product out that I will not suggest for the very same reasons. Big chunks break off and they can choke and they do not need that much starch in their system triggering a yeast infection.

KONG has a whole line of toys that works well and the "skinny" long fleece or fur toys with the squeeker in each end works very well. They dangle and the love to feel as if the just snagged a critter so the prance around the house with one of these skinny flat fur toys.
---
FOODS AND TREATS I USE:
Krunchity Munchity Alaskan Wild Salmon Treats - the dogs LOVE them!
Raw Meat - Freeze Dried http://www.darwinspet.com Diets "chunks" needs no refridgeration and the dogs love these nuggets!
Darwin's Raw -it's shipped right to your door!!!
Raw Meat/Fruit/Veggie Mix - HONEST KITCHEN to go with natural/holistic kibble for a great mixer or complete diet.

OTHER PRODUCTS:
Dogs with Stress and Anxiety Problems

Best Liquid Joint Health Supplement
Best Wild Salmon Oil on the Market - Omegas
Cancer - Tumors
Cancer -Immune Boost
Bulk Probiotics/Digestive Enzymes for Breeders/Kennels/Multiple dogs

A Whole Food Vitamin/Mineral Supplement
Probiotic/Digestive Enzyme w/ Vitamin C and Organic Barley Grass

Trace Micro Minerals - powder
Sticky Sheets - no more dog hair on the couch! Great big reusable sheets.
Spark of Life Micro Minerals - liquid
Liquid Net for Pets - all natural flea spray in a bottle you can spray upside down.
Joint Support - Advanced Formula - the best in all my feed trials!

Co-Q-10 Heart Health - (NOT from China)
L-Carnitine - Heart Health -(NOT from China)

Colostrum - Immune Health (NOT from China)
Seizures

Natural Shampoos

Natural Shampoo & Anti Itch Spray Specifically for Yeast Problems

Shampoo and Spray for Flea Bite Irritation

Natural Flea/Insect Spray


Oral/Teeth Spray - No More Anesthesia w/this product

Eye Wash

Ear Wash - Yeasty/or Infected

Yeast Removal Program
I use the Precise Pet Foods - INFO BELOW:
Pet Business Industry Award 2010

The Best Pet Food Catagory was awarded to Precise Holistic Select line up launched at Super Zoo in Las Vegas in 2010 - Since I played a major roll in the design of the large breed puppy, adult and senior, salmon and duck/turkey formulas, I am very proud of this award! 'Pet Business' Industry Recognition Awards program highlights the pet specialty industry's most innovative and functional products across a variety of pet care categories.
Read about the Award

Part 1 Interview with the GreatDaneLady
Part 2 Interview with the Great Dane Lady
Part 3 Interview with VP of Precise

Why I Support Precise Pet Foods