UNDERSTANDING THE PROBLEM:
YOUR PUPPY SHOULD NOT BE KEPT ON SOLID CONCRETE, TILE OR WOODEN FLOORS WHERE THERE IS NO SURFACE TEXTURE FOR THEM TO GRIP WITH THEIR TOES, AND USE THEIR MUSCLES, LIGAMENTS AND TENDONS PROPERLY.
REMEMBER THE FRONT END OF A DOG SUPPORTS THE BODY WEIGHT, THE REAR PROPELS THE MOTION, SO THE FRONT END MUST HAVE TRACTION.
SLICK SURFACES ALONG WITH LACK OF EXERCISE AND NUTRITIONAL MONITORING, WILL CONTRIBUTE TO "BOWING IN" AND "KNUCKLING OVER" ON YOUR PUPPIE'S FRONT END ASSEMBLY.
WHILE YOUR DOG IS IN THE EARLY STAGES OF DEVELOPMENT (UNDER 6 MONTHS), IT IS BEST TO PURCHASE RUBBER-BACKED THROW RUGS (NO FRINGE AND NO CONTINUOUS LOOP CARPETING, IN CASE THE CHEW IT), SO THEY HAVE SOMETHING TO GRIP WHEN WALKING AROUND, AND YOU CAN WASH THEM WHEN NEEDED.
JC PENNEY'S AND KOHLS HAVE GREAT BUYS ON THESE KIND OF RUGS FOUND IN THE BATH SECTION OF THEIR WEBSITE OR STORES. ANOTHER SOUCE IS THE LOCAL GOODWILL OR MISSION STORE. REMEMBER, NOW IS NOT THE TIME TO WORRY ABOUT "DECORATING" YOUR HOME, YOU PURCHASED A PUPPY AND NOW IT'S NEEDS MUST BE MET, MUCH LIKE HAVING TO HOUSE-PROOF YOUR HOME FOR A TODDLER.
---
The term
Developmental Orthopedic Disease
represents a variety of conditions that occur in young developing canines. Usually this is a problem that occurs in large and giant breeds, but I have seen cases in smaller dogs as well. I will list the conditions in the order in which I have seen them occur in young puppies.
Carpel Flexural Deformity or "Knuckling Over or Bowed Legs "
HOD - Hypertrophic Osteodystrophy
OCD - Osteochondritis Dissecans
Pano - Panosteoitis
Knuckling over is the first condition normally seen and I will focus this paper on this particular problem. The other conditions listed a different set of problems - all usually nutritionally base and if caught early enough can be corrected with a comprehensive feeding program for Knuckling Over
Knuckling over is first noticed in the area of front leg on a puppy, or the growth plate (wrist or carpal) area. The term coined by professional breeders for this condition is knuckling over, and it describes a condition where the front end assembly of the dog, the weight bearing part of the body, is unable to support the whole body weight of the puppy, due to a lack of integrity in the muscle, tendon and ligaments. It is my opinion this condition is not genetic - it is due to uneven growth pattern between the bone and tissue/muscle of the puppy and it is cause by dietary imbalances and/or missing micro-minerals and/or minerals that are not available to the body - difficult to assimilate.
The condition of " knuckling over", can be very extreme, almost as if the legs are made of some malleable material - like rubber! Early knuckling over - under 8 weeks of age, is not a problem and very common because the large and giant breeds grow quickly during the early stages of development.
Once a puppy reaches 8 weeks of age they need to be separated from the litter during meal time, so you can keep track of the amount of food being consumed and it is during this period that we start to see the beginnings of extreme knuckling over. I have noted this problem has 4 stages in terms of degrees, and I am happy to report, if owners contact me early enough and put them on the Blackwatch Puppy Feed Program for Knuckling/Bowing - HOD Kit#5, and in some cases do wrapping and supports, we can turn them around very quickly - 2 days - 2 weeks depending on the age and length of time they have been this way.
Breeders often think growth issues are cause by too high a protein in a diet and that is not the case at all, and research shows us this is not true.

It is true that high protein diets are also high fat diets, and therefore they are high calorie diets and difficult for owners to manage the proper feeding amounts, keeping in mind puppies will want to eat much more than they actually need. But the real issue with growth problems is the relationship between the intake vs output in calories and the bio-availability of the macro and micro minerals in a food.
When you do not have this correct equation in a diet, it causes uneven growth patterns between muscles, ligaments, tendons and bones. They are all developing at different rates - the end results are severe knuckling over and this grotesque deformation can be permanent if not taken care of in the early stages. This does not only effect the carpal/wrist area, but can also the shoulder area (see below photos).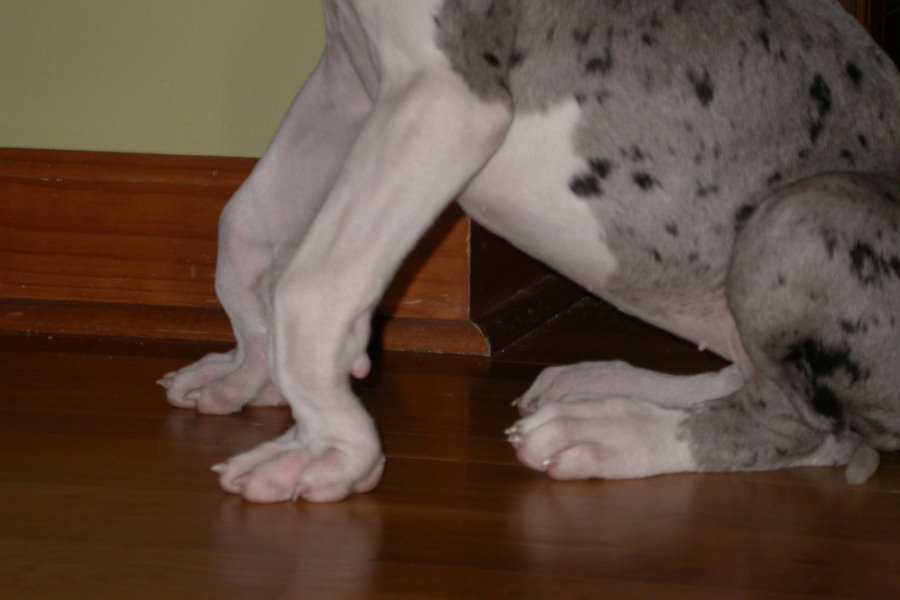 Before change of diet to Blackwatch Puppy Feed Program and wrapping with vet wrap.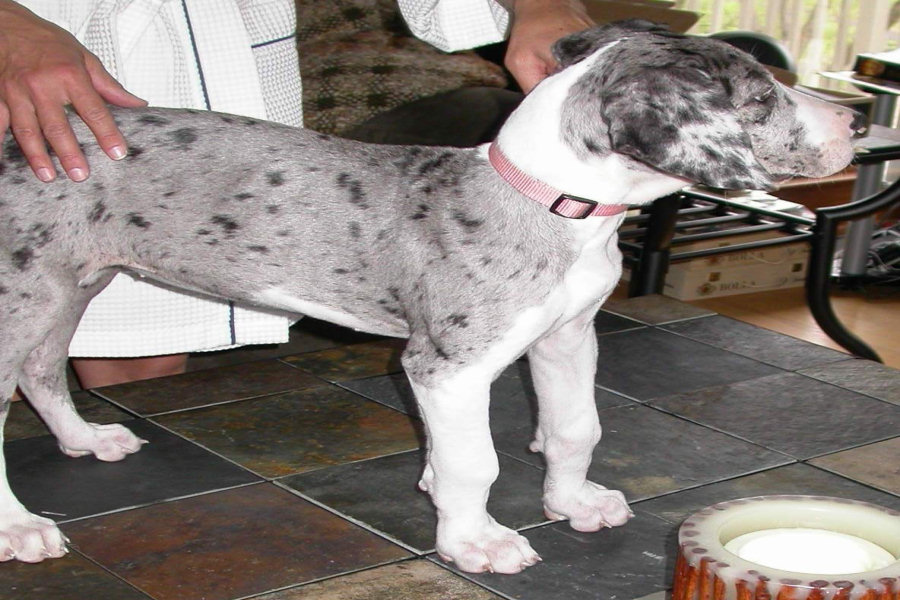 Left: 11 days later she can support her own body weight. Warps are checked every 2 days.
Right: at 5 Months - her legs show no sign of developmental orthopedic disease.
Here are resources for leg wraps and supports for serious problems that can not be taken care of with normal vet wrap http://www.dogleggs.com/or www.orthovet.com
For a dog with cruciate ligament issues, it is no longer necessary to do surgery in many of these cases. With the support of a A-TraC Dynamic Brace and good diet to feed, the dog can get around very well.
---
Knuckling Over
---
Level 1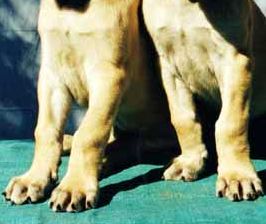 Puppy on the right, shows the inside leg as an example of the beginning of the early knuckling over we see at 5 - 7 weeks of age. This is not at all unusual and often corrects itself as the dog matures to 8 - 9 weeks of age, provided they are on the right diet. There will be some vacillating back and forth during the time of vaccines and ear cropping, the stress of all of this and the fast growth they go through all contribute to the problem. .
---
Level 2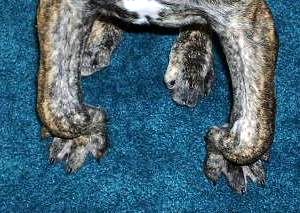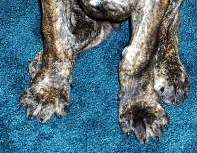 On Left: 8 weeks
On Right: 9 weeks after being wrapped and a change in diet, this dog is able to support his own weight.
---
Level 3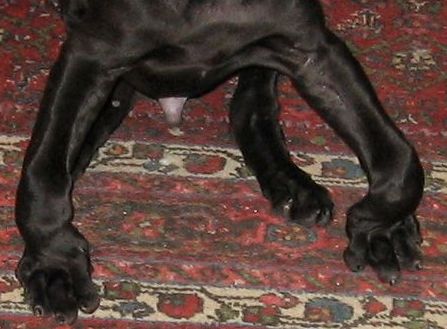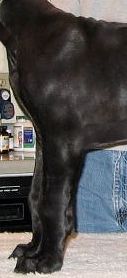 8 weeks on left , then with wrapping and a change in diet and it is corrected at 9 weeks
---
Level 4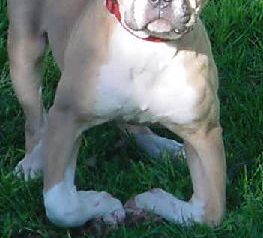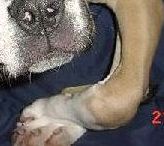 On left is at 9 weeks and unable to stand and support his own weight. With a spoon splint, wrapped and change of diet you can see in 12 days this dog's leg can be straightened out. Only in extreme cases do we have to brace the whole foot, in this case the dogs toes were curled and deformed, so we needed to straighten them out so he could support his weight. He was only left in a spoon splint for 3 days then moved to a splint that allowed his foot normal movement.
---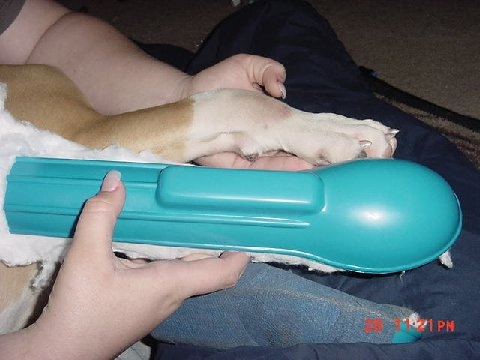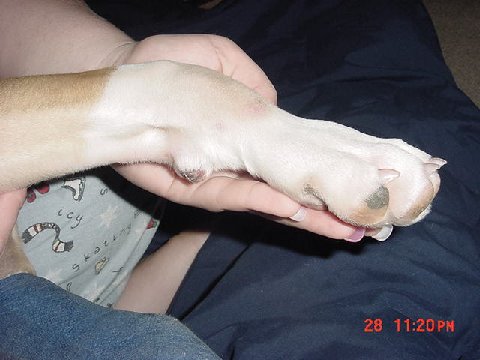 This is an image of the spoon splint that was put on behind the dog's leg in order to straighten it out. The photo on the right is 3 days later, and the dog's leg is straight. Sometimes, as in level 4 problems, we need to splint the whole foot because the dog's toes are curled under and can not support the weight of the dog. This problem can effect any large/giant breeds - it can happen to smaller breeds as well.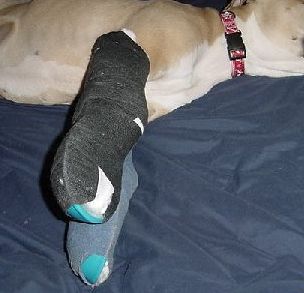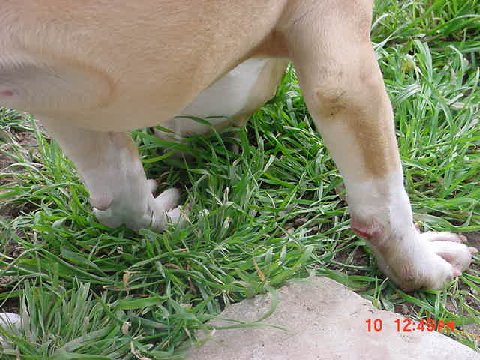 Left are examples of the bracing of this dogs legs and feet. After 12 days in a brace (checked every 2 days) and a change to Blackwatch Feed Program ,this problem is corrected to the point the animal can now support his own weight on his feet.
In order to correct level 3 and level 4 of knuckling over, it is mandatory to change the dogs diet, control the amount of food consumed and allow free exercise.
It may also be necessary to wrap the shoulder area with vetwrap, as well as the growth plate or wrist area on the dog. When the dog can't get traction due to his weak shoulder muscles, it is important to bring the legs under the dog and support with some kind of wrapping brace - images below. Have your vet help you with this so it is not too tight to obstruct breathing but will hold in the legs much like a hobble for horses...and get the dog off of slick, hard surfaces!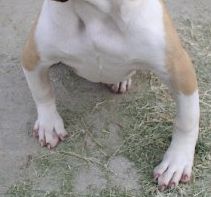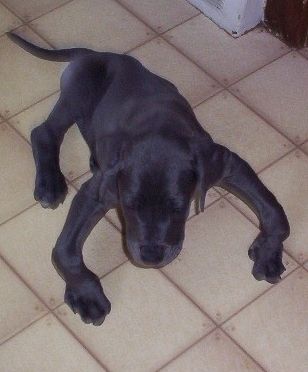 ---
How To Wrap For Wrist and Leg Support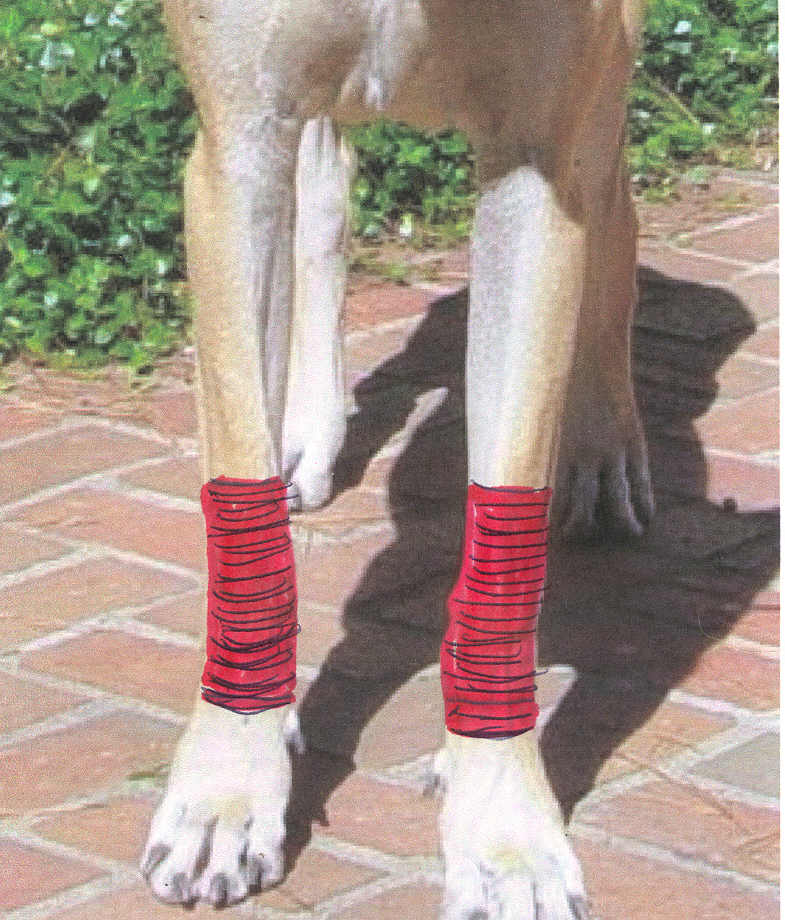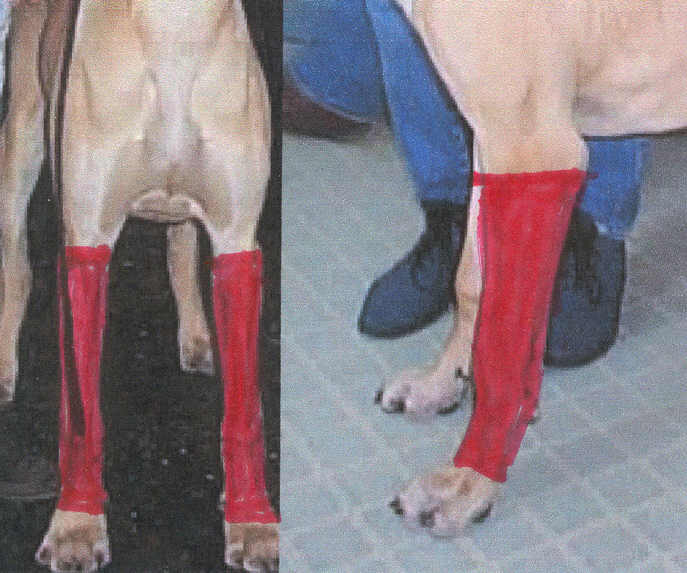 In younger dogs, often the pastern area only, needs to be supported with vet wrap, as seen on the left example. In older dogs - up to 7 months, the whole leg may have to be supported with vet wrap. It can't be too tight (feet swell) and it must be changed every other day on older dogs, to check for open sores. This can't get wet!!! or you will end up with sores- so make sure it is covered with plastic if it is raining outside and they have to go out. Seek your Vet's assistance.
---
How To Wrap For Shoulder Support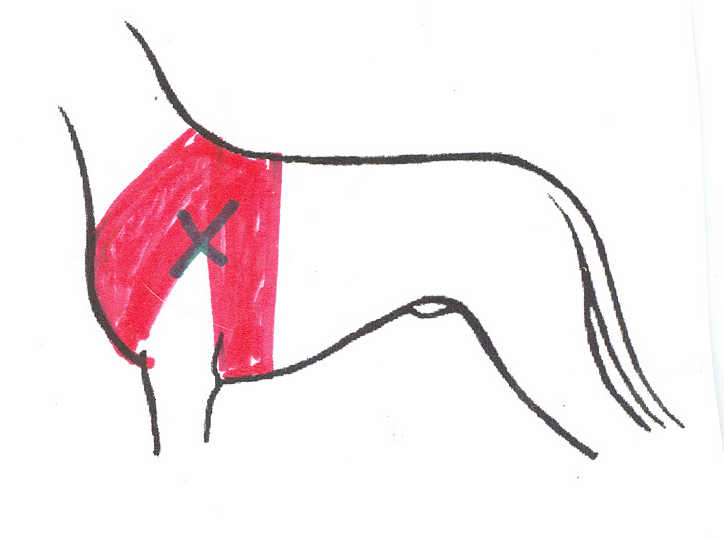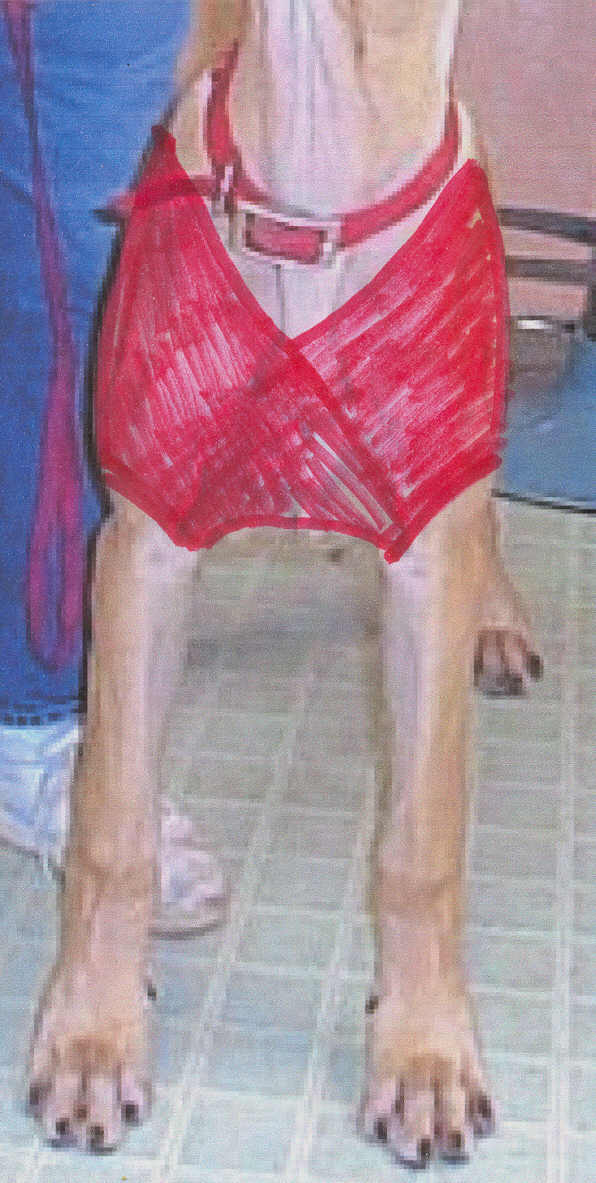 ---
Splints for your Dog
There are a couple of different types of splints, the plastic spoon splint which you see above in the photos, then there is the light weight aluminum splint that is lined with foam. This one is obviously easier to cut to the length you want to use. Make sure that it is straight and the cut edge is covered with tape so it does not cut the dog's leg.
Do NOT splint the elbow, make sure it is below the elbow so the dog can have free range of motion with the front end of the dog. You just want a channel to support the bone. Wrap with vet wrap and do not wrap feet so the dog can walk properly. This splint must be kept dry and make sure it is taken off and checked every 1-2 days, so there are no sores that develop under it. Line the splint with cotton batting as a cushion. Make sure the leg is dry, before wrapping and a layer of cotton is laid down on the leg before resting it in the splint. Your vet needs to be consulted when doing this splinting and wrapping.

---
What Causes This Extreme Knuckling Over?
Knuckling over is caused by the following:
1) a combination of two different types or brands of dog foods - feeding (50/50)
2) the brand or type of food has been changed several times (3-4) times
3) the addition of poor quality vitamins/minerals to a diet (not from whole foods)
4) human foods in amounts enough to disrupt the calcium/phosphorus balance
5) too many calories vs the amount of free exercise they get on a daily bases
6) feeding a pet food that has minerals that are not very available to the body - crude forms
7) diets lacking vital microminerals or trace minerals
8) feeding too much of a good food
9) any or all of the above.
---
What to Feed My Puppy and What Supplements Are needed to correct This problem?

To correct this problem switch to Precise Holistic Complete Large/Giant Breed Formula which is a 23% protein/ 12% fat food which means a slower more even growth when fed in the proper amounts (see below).
When switching to Precise Holistic Complete L/G Puppy Formula, do so quickly by starting with a 50/50 mix for the first feeding, then 100% of the new PHC Large/Giant Puppy Formula at the next feeding.

DO NOT MIX DOG FOOD BRANDS PAST THE FIRST DAY. It's important to use probiotics when switching food so they do not get loose stools. So in the meantime, until your kit arrives, buy a bottle of Sustenix from the "digestion" section at Walgreens or Walmart and dose for and adult human.

Until you have your Precise food, what ever food you are on, cut back the amount you are feeding!
If you can not locate the Precise Holistic Complete Large/Giant Puppy Formula, you can use one of the Precise Holistic Complete "Wild at Heart Kibbles" because they are all life stage formulas and will support growth.
I can't get this problem corrected on other foods. These dogs grow so fast, even a slight adjustment in foods, supplements or amounts can throw their system into a tizzy. This is a problem of rate of growth being out of sync between the bones, muscles, ligament and tendons of the shoulder and wrist/carpal area.
Amount to Feed:
Giant Breed Puppies use the mid- range and for Large Breeds Puppies
use the low end on the chart - the numbers marked in Green

2 months - 2-4 cups per day - (divided into 3 meals daily)
3 months - 3-5 cups per day - (divided into 2 meals daily)
4 months - 4-6 cups per day - (divided into 2 meals daily)
5 months - 5-7 cups per day - (divided into 2 meals daily
6 months - 6-8 cups per day - (divided into 2 meals daily)

COMPLETE CHART - AMOUNT TO FEED CHART . (print this out)
---
HELP, What If I Can't Find Precise Foods?
Here is my backup brand of pet food if you can not locate PRECISE FOODS, for
cases involving bowing and knuckling over, use the:

Pure Vita Chicken/Rice Formula - 24 % protein -13% fat OR
Nutri Source Adult Formula (that is their regular adult formula, not large breed) which has a 26% protein - 16% fat, but only 370 calories per cup and 1.4% calcium which supports giant breed growth.
---
When I asked my friend Pat Hastings about this her comment was, "I believe the problem is a combination of muscle, tendon and ligaments. There is not enough integrity of the tissues to hold the joint in proper alignment. One piece that is weak adds added stress to the rest and it works like a domino effect. " 1.
When the owner or breeder starts to see this happening in a puppy (level 1) , they panic. Instead of starting off the puppy on a holistic brand of dog food and monitoring the amounts, they "monkey around" with the diet, changing foods, adding this and that, listening to too many suggestions online, their friends and the vet. Breeders are the worst at doing this and therefore they are often the ones that wait too long seek help, because they are embarrassed. But we need to address this issue immediately so as not to have life long damage. Many dogs with early developmental problems have gone on to finish their championships and live long happy lives, once on a comprehensive feeding program. Those who have not end up with permanent damage as adults (see below).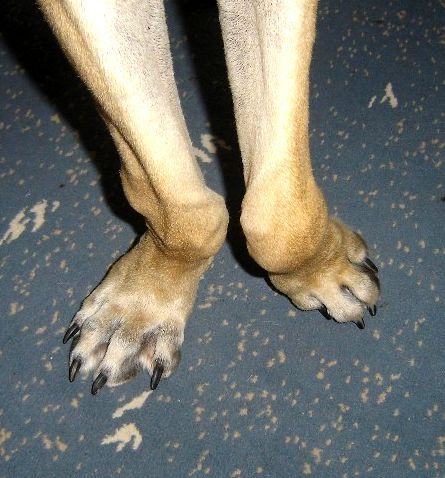 ---
Getting Help for Knuckling Over
Unfortunately, I am inundated with emails for help anymore due to the popularity of this site. But I have set this website up so you can print out the info and take it to your vet to correct the problem.

If you send me images to look at and assess, I need all the info you can provide on current diet, plus photos - front on and side, sitting and standing. Photos must be in JPG format.*

*These photos become the property of Blackwatch Nutritional Consulting LLC and can be used at my website, seminars, lectures and books to help others from experiencing the same thing with their puppies. I will crop to photos so they are unidentifiable, change the names to protect the kennel and breeder, but use the photos to educate others about this problem.
---
HOD or KNUCKLING/BOWING INFORMATION FORM

1) Cut and Paste the questions in this form into an email and attach the photos of our dog (in a JPG format). In the SUBJECT LINE write: "Knuckling Over"

SEND TO: GrDaneLady@aol.com with a copy also sent to:
1stchoicenaturals@comcast.net
2) Order your Supplement Kit for Knuckling/Bowing which is called the Blackwatch Supplement Kit #5 for HOD and it can be ordered online by clicking this link above, or you can call in the order to FirstChoiceNaturals.com at 765-284-8288
For a phone consultation with me, you must make arrangements through First Choice Naturals customer service.
---
---
Can We Fix This? ....YES, We Can
---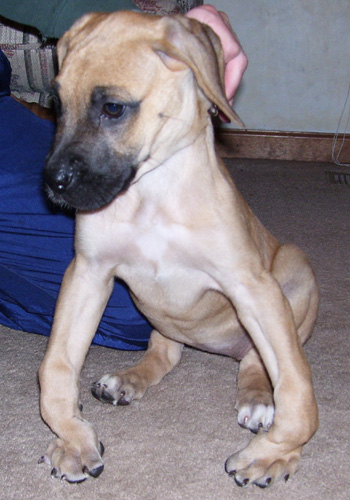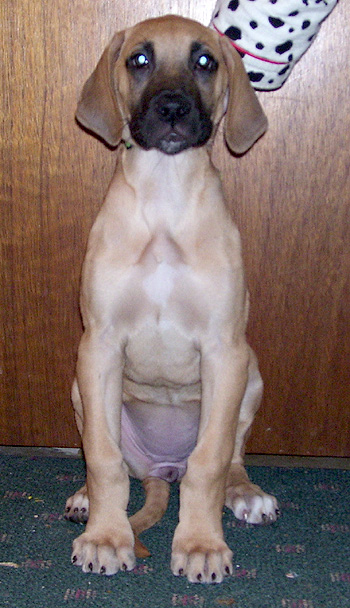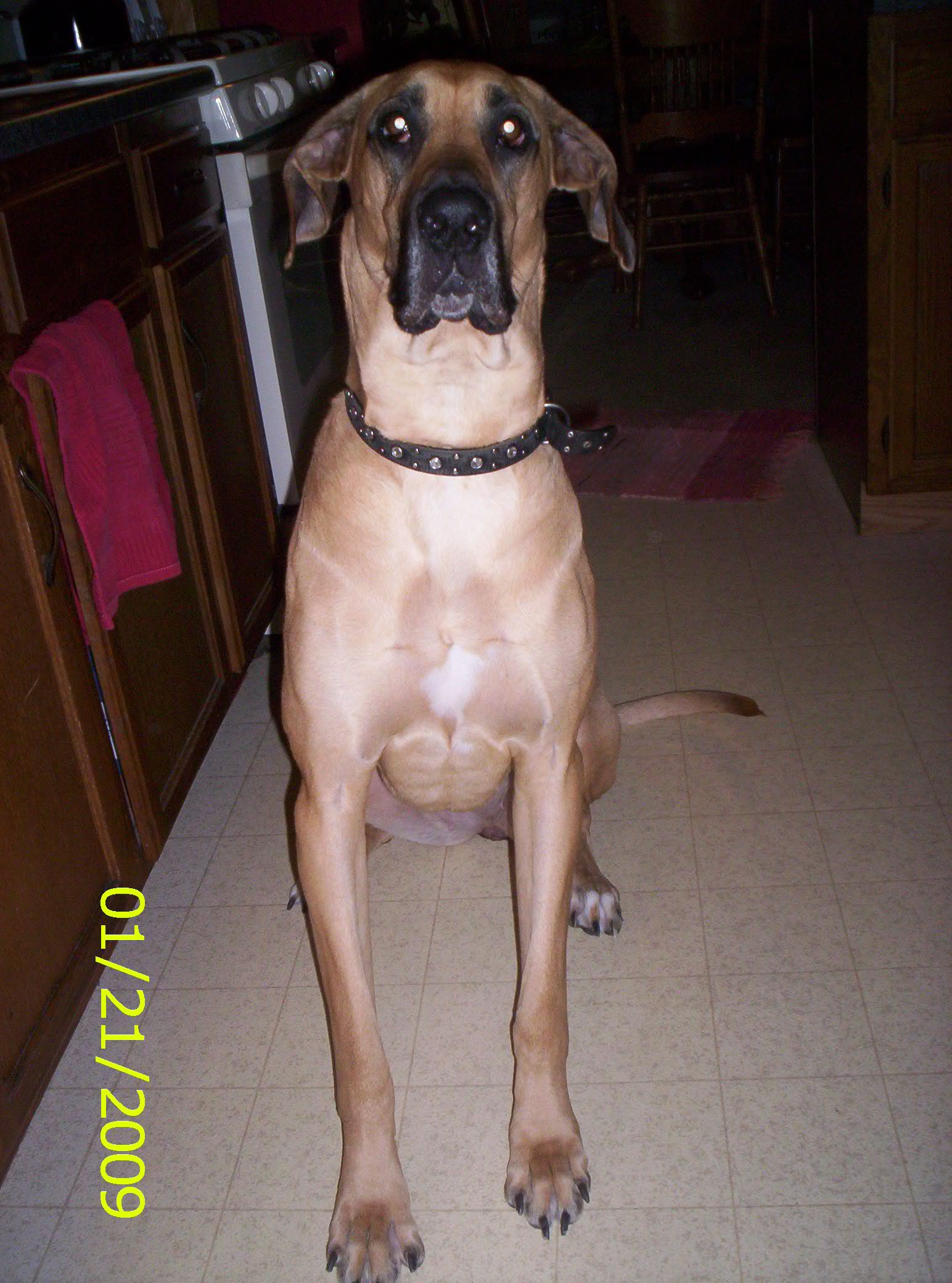 Nadya Before (left)
(middle) - Nadya after 2 weeks on program
(right) Nadya at 2 years old - beautiful straight legs!
---
---
Order the Blackwatch Feed Program - HOD Kit#5
How To Introduce HOD Kit #5

Day 1 - Start with the MSM and the Spark of Life in the Morning and Evening

Day 2 - Continue the MSM and Spark of Life and add the 4 in 1 Probiotic - Morning

Day 3 - Continue the MSM and Spark of Life and add the 4 in 1 Probiotic - Morning
Day 3 - Introduce the Level 5000 joint supplement - Evening

Day 4 - Continue the MSM and Spark of Life and add the 4 in 1 Probiotic - Morning
Day 4 - Introduce the Level 5000 joint supplement - Evening

Day 5 - Continue the MSM and Spark of Life and add the 4 in 1 Probiotic - Morning
Day 5 - Introduce the Level 5000 joint support and Nzymes granular -- Evening

Day 6 and there after: MSM and Spark of Life and 4 in 1 Probiotic - Morning
Day 6 and there after: Level 5000 joint support and Nzymes granular -- Evening
---
FUNCTION OF THE Supplements in #5 hod kIT.
1) MSM-nutritional sulfur - dosage is on the container. .It is my understanding from reading the patent info and discussing this with Vita-Flex the oldest distributor of MSM, that this is the recommended dosage and it is my experience that this helps to level out the uneven growth spurts the dog has gone through. Vita-Flex MSM corrects mal absorption of other nutrients such as minerals whose imbalance relate to problems such as osteochondrosis (HOD, OCD, Pano). It also helps with pain and inflammation.
2) 4 in 1 Probiotics- (multiple cultures/digestive enzymes/Ester C and Barley Grass)
3). Spark of Life Trace Minerals - all commercial diets on the market are missing critical micro-minerals necessary to make proper bone and run the body's electrical system. Often unusable or lacking micro-minerals are at the core of many developmental orthopedic problems.
4). Liquid joint support supplement- Level 5000 Joint Support
5).Nzymes - these dietary enzymes that are natural anti-inflammatory - and important in you not having to use risky medicine like Rimydal. Nzymes are part of every one of my comprehensive feed programs so you will need these anyway, when you switch to the whole program for the life of your dog. Nzymes come in pet treats or granular. If you have more than one dog, the granular goes further.
---
Safe Dietary Options for Variety:
To make a gravy you can use a Precise canned meats, or homemade vegetable soups. Use a little canned meat and mix with water for a gravy.
Another option you can use is Honest Kitchen dehydrated raw dog food, it is what I use to provide a 10% raw component to my dogs Precise kibble. It is balanced in calcium and phosphorus ratios which are very important in growing and elderly dogs!

I use the EMBARK, FORCE,VIGOR, KEEN ect. which has a raw organic turkey or chicken, fruits and veggies and sometimes I will use PREFERENCE, which is strictly fruits/veggies and herbs.

EMBARK 29% protein - 16% fat - Organic Turkey, Flaxseed, Potatoes, Celery, Spinach, Carrots, Coconut, Apples, Kelp, Eggs, Sesame Seeds, Bananas, Cranberries, Rosemary.

PREFERENCE: 12% protein 5 % fat - Alfalfa, sweet potatoes, cabbage, celery, apples, spinach, organic kelp, coconut, bananas, zucchini, and honey.

One- 4 lb bag will make up to 17 lbs of moist meat/fruits and veggies and if used to top dress your kibble you can see it goes a long way. The Honest Kitchen dog food and Eagle Pet Foods are endorsed by the Whole Dog Journal.

To order call go to www.firstchoicenaturals.com

Amounts I use of Honest Kitchen :

8-10- weeks - 1 Tablespoon each meal
11-16 weeks - 4-Tablespoons divided AM and PM meal
5 - 6 mo - 1/4 cup AM and PM
7 - 8 mo 1/4 - 1/2 cup 1 AM and PM meal
9 mo - Adults - 1/2 daily - 1 cup Divided AM and PM

IF you want to do your own fruits and veggies here are some suggestions

FRUITS &VEGETABLE: This is a list of recommended foods to use in moderation:

yogurt, buttermilk berries melons, apples, banana, tomatoes, carrots, broccoli, cauliflower, oranges, squash, sweet potato, green beans, zucchini - minced/diced/raw/cooked - they love frozen berries and melon balls!! Pulverized fresh veggies are best for digestion. NO raw onions, grapes or raisins, macadamia nuts.
|
Linda's Very Veggie Soup -
2 large cans of chicken or beef broth - (low sodium for heart or elderly dogs- or homemade). Add LOTS of veggies
- carrots, green beans, wax beans, zucchini, squash, tomatoes, cabbage, broccoli, cauliflower and couple cloves of garlic. The idea is to use this as the filler so you want it to be hearty and filling.
DO NOT SOAK KIBBLE AND LET SET, OR USE HOT WATER ON YOUR KIBBLE IT WILL DESTROY THE INTEGRITY OF THE NUTRIENTS AND PROBIOTICS, WHICH ARE THE FRIENDLY BACTERIA THAT IS ON THE FOOD.
Drinking Water:
WATER ON KIBBLE - on little puppies you want to use about 1/8 cup and older puppies 1/4 cup water + 3-4 tablespoons canned meat. You want the food moist but not floating and sloppy (this is for large/giant breeds, reduce amount for smaller breeds accordingly). Do not microwave, soak or use hot or very warm water on your kibble. It will destroy the integrity of the friendly yogurt type cultures and the fragile vitamins/minerals and amino acids on the food.

It is very important to NEVER withhold water from your dog. This can lead to over consumption and bladder infections. Use common sense, do not let them drink excessively after exercise or dinner. Like a horse, let them cool down and then drink. I have found if I have water available in several places, they never overdo it since they know it is available to them when they need it. That way they drink less amounts of water, but more frequently.
Withholding water for fear of bloat is a myth. Stress is the cause and bloat/torsion is the response. It is much more complicated that simply saying water is the cause of bloat.


Additional Support Information:



---